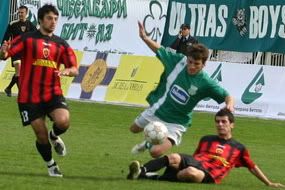 altRound 10 is next scheduled over three days but it seems that the attention will be on Sunday in Bitola where Pelister will be hosting Vardar in the biggest derby of Macedonian football.
Both teams' players will have to forget the finances' problems, both teams' players will have to forget the inconsistent trainings. Both teams' players, at least for a day, will have to be fully focused and fully concentrated because they will certainly be fully motivated. The all-time football derby in Macedonia - Pelister against Vardar. We will not focus on history, we will not be returning back in time and check statistics - we will be looking forward to enjoy the football fiesta between Pelister and Vardar who are now wounded but still attract the biggest attention. Serbia has Red Star and Partizan, Croatia has Dinamo and Hajduk, Macedonia had, has and will have Pelister and Vardar.
Three matches from this round are scheduled for Saturday. Renova will try not to give up in the race for the first place with Rabotnicki as they are only one point behind them. But, it seems like Metalurg have found their play and they managed to win twice in a row. It will certainly be a great match. Renova are coming back from Kratovo with fabulous 0-5 victory and although they are favorites for this match they can't be as much as the bookies consider them. Last season these two played two draws and once Renova won 4-0.
Rabotnicki seems like with an easy job ahead of them when they take on Pobeda. Rabotnicki are arguably one of the best teams in Macedonia at the moment, while Pobeda with only 6 points gathered so far and in the red zone does not look like they have bright season ahead of them.
Turnovo and Makedonija should play an attractive match but a big question will be how much the pitch will be in a good condition if we know that yesterday the weather was not good and an international match between Finland (u17) and Turkey (u17) took place yesterday. Both teams are in the upper part of the table, Turnovo plays solid at home while Makedonija still have not displayed very good performance away from Gjorche Petrov. Maybe both teams can be satisfied if they share the spoils from this match.
On Sunday, Sileks will try to recover after they were heavily trashed in the last round against Renova at home in the match against Teteks. Sileks have started great but slowly started to lose touch with the leading teams and will now try to rebound. Teteks have barely managed to win in the last round against Turnovo at home although Turnovo played a big part of the game with a player less. Both teams at this moment do not produce some great play although Sileks are in the upper part of the table and it will be interesting to see how will both teams cope with their uprising challenge.
The last match for this round will be played on Monday. Milano will be hosting Sloga Jugomagnat. Unfortunately, things have not improved in the first-league team from Kumanovo and once again it seems the only question ahead of Milano's matches it will be how many goals will Milano concede and whether they will be able to score at least one.
MacedonianFootball.com would like to remind you not to forget to place your predictions in the PREDICTION LEAGUE for this 3-days-round.
---