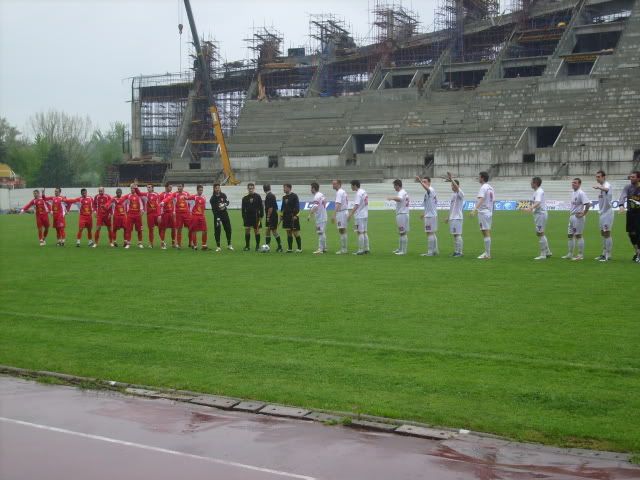 Rabotnicki - Sileks (1-2) 22.04.2009Four matches scheduled for this Wednesday in the 17th round of the Macedonian championship. For the first time in history a round will be consisted of only 4 matches.
Pobeda - Renova
In Prilep, Pobeda will be hosting leaders Renova. After their very bad start this season, Pobeda got back on winning tracks and have climbed up to the sixth place with 19 points gathered. They are in an excellent form winning all 4 last matches. But, this will be a real challenge for them as they will be hosts to the leaders of the championship and one of the two best teams in this season. Furthermore, they will have tradition against them as they only have 3 wins against Renova in the last 13 matches, while Renova celebrated 8 times. In fact, Pobeda's last win over Renova can be found more then two and a half years ago, when in March 2007 Pobeda won 1-0 against Renova. This makes this match very exciting and very much worth seeing.
Sileks - Rabotnicki
Another excellent match expects us. Sileks against Rabotnicki, a match between former champions. Sileks have started this season amazingly good and for long time they haven't been defeated but something went wrong and now they are sliding down the table. They are at the 7th place at the moment and thankfully to Milano have they managed to end the bad streak they were into losing 4 consecutive matches, two of which at home. Rabotnicki narrowly won over Turnovo last round and managed to keep the -2 points with Renova in the race for the first place. The match in Skopje between these two ended 1-1.
Turnovo Horizont - Pelister
In the battle for the third place, while Turnovo and Pelister were 'boycotting' it was Metalurg who managed to use that whole situation and found themselves on the third place. Now Turnovo and Pelister face each other in a match that is must win for both teams if they would like to keep up in the race with Metalurg. Matches between these two teams had been attractive especially if we have in mind that in last season's last round if Pelister celebrated a win against Turnovo at home they would have avoided play-out matches, but they failed to win drawing 2-2. Earlier this season Turnovo won in Bitola with 1-2, while Pelister had eliminated them in last season's cup edition with an aggregate score of 6-1.
Teteks - Milano
Although the team from Kumanovo started scoring goals if nothing else, this should only be an easier training for Teteks and the winner should not be put into question.
---