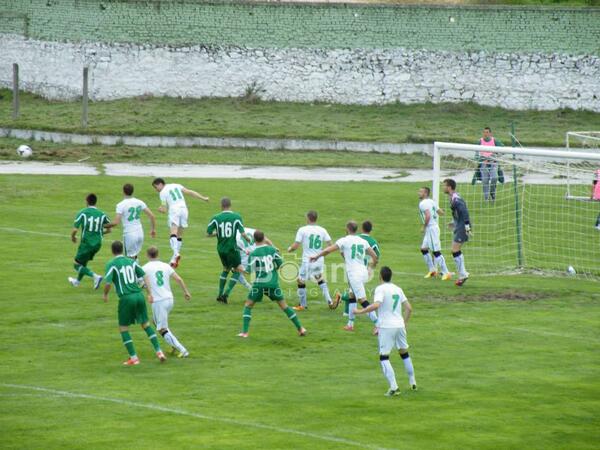 Pelister vs. Metalurg; photo: Pelister Facebook Pelister lost at home against Metalurg, while Rabotnichki, Vardar, Shkendija and Horizont Turnovo each notched 3 points.
Pelister disappointed its home fans with a second consecutive defeat to fall 3 points behind the leaders Rabotnichki. Metalurg went into Bitola and proved the better side in a 1:3 triumph. The match could have taken a different turn if Dimitar Vodenicharov converted a penalty in the 26th minute, but he hit the bar to squander a great chance. Metalurg would go on to get two goals to take a 0:2 lead at the halftime break. Pelister did pull one back through Lyubomir Lyubenov's great goal at the hour mark, but Metalurg then grabbed a third goal in the 84th minute to put away Pelister for good.
Highlights of the match:

Rabotnichki had no problems with Gostivar and celebrated a comfortable 3:0victory, just like Horizont Turnovo who cruised past the other already relegated team Napredok to win 4:0.
Shkendija managed to collect three points from their trip to Gorno Lisiche by scoring two goals in the second half. Brazilian Stênio Júnior opened the scoring with a nice individual goal, while Mensur Kurtishi doubled his team's lead minutes later. Shkendija got its revenge over the "Vulpines" as they lost 2:1 in the same stadium one month ago.
Highlights of the match:

In the last match to get underway today at 20.00 CET, Vardar had no problems with Renova by winning 5:1. Vardar's task was certainly made easier when Visar Musliu was sent off in the 1st minute after he fouled Filip Ivanovski who was clear on goal. Vardar eventually took the lead later on, but in the 29th minute Vardar also went down to 10 men when Filip Petrov was dismissed for his second yellow card of he game. Renova equalized several minutes later, but Vardar composed itself and then scored four unanswered goals to roll to a 5:1 home victory over Renova.
Pelister - Metalurg 1:3 (0:2)
60' Lyubomir Lyubenov - 30' Marjan Radeski, 45' Oliver Peev, 84' Zoran Vujović
Rabotnichki - Gostivar 3:0 (1:0)
3' Petar Petrov, 61' Darko Velkovski, 77' Blazhe Ilijoski
Horizont Turnovo - Napredok 4:0 (2:0)
14', 53', 87' Muzafer Ejupi, 18' Sashko Pandev
Gorno Lisiche - Shkendija 0:2 (0:0)
62' Stênio Júnior, 75' Mensur Kurtishi
Vardar - Renova 5:1 (2:1)
17', 54' Jasir Asani, 37' Dimitrija Lazarevski, 49' Zlatko Tanevski, 72' Vlatko Grozdanoski
Sunday at 16.00 CET:
Bregalnica vs. Makedonija Gjorche Petrov

---