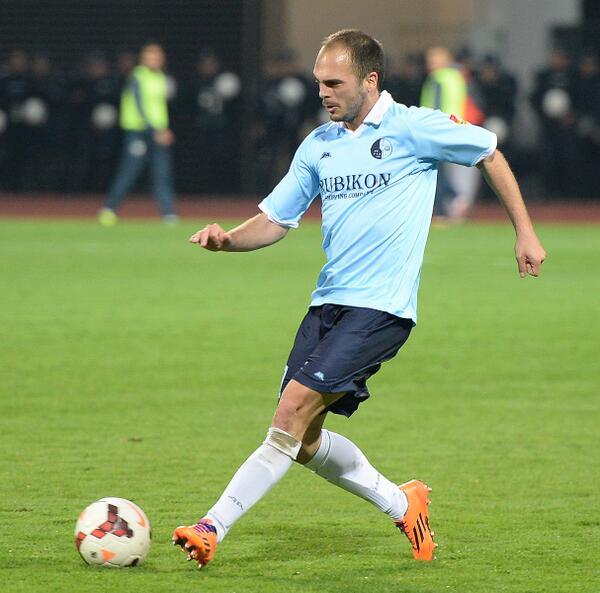 Lazevski playing for Rad; photo: fkrad.rsThe next player to be featured in our interview series is Aleksandar Lazevski, currently playing for Rad in Serbia on loan from Ukrainian club Hoverla.
Aleksandar Lazevski was born in Serbia in January of 1988 to a family of Macedonian origin.  As he told us in the interview, the biggest reason for Lazevski choosing to represent Macedonia internationally was his grandpa who was born in a village near Kumanovo.  He wanted to make his grandpa proud.  At this point, Lazevski has made 14 caps for Macedonia.

Lazevski joined the Partizan youth academy in 2000 as a 12-year-old and remained there until the summer of 2013.  While under contract at Partizan, he also played for FK Teleoptik which as where Partizan sends many of its young players to gain experience.  Aleksandar signed with Ukrainian top division club Hoverla in June of 2013, but he saw little playing time there which then led to him being loaned to FK Rad during the past winter transfer window.  He has become a regular for Rad at left-back as his current club attempts to avoid relegation following a disastrous first half of the season.

Last week, we caught up with Lazevski for an interview to get his thoughts on several topics.  You can read the complete question and answer session below:

MF: Aleksandar, tell us more about the start of your career? When did you arrive at your first club Partizan?
AL: I arrived in Partizan when I was 12 years old as a kid.  The Partizan coaches observed me during trainings and after 6 months I became a member of their youth academy.

MF: Thus far in your club career, you have played in Serbia and Ukraine. How would you compare the conditions and quality in those two leagues?  At the same time, how was your situation at your former club Hoverla?
AL: The Ukrainian league is unquestionably much stronger than in Serbia.  In Ukraine there are 5 teams who are challenging for the title and 4 more teams who can cause damage to those top sides in any given game.  Meanwhile, in Serbia, you only have Crvena Zvezda and Partizan contending for the title.  Teams like Jagodina and Vojvodina can sometimes spring a surprise result here and there, but never anything serious to contend for a title (which is the case in Ukraine).  My situation in Ukraine was not the best, I only played in several games and it was logical then for me to pursue a loan in order to return to my old form and to once again be considered for the national team for the upcoming games.

MF: What do you see as your biggest strengths on the football field, and what are some areas that you would like to get better at?
AL: Well, I would say that adhering to my responsibilities on defense is my biggest strength along with anticipation, quickness and shooting ability, while I would like to get better when going forward.

MF: You were born in Serbia, but decided to represent Macedonia internationally.  Why did you come to that decision and have you always known that you wanted to play for Macedonia?
AL: I always wanted to play for Macedonia, for myself but more so for my grandpa who was born in a village near Kumanovo.  For that reason, I dreamt of that and to also make my grandpa proud of me.

MF: Lastly, do you personally know the new manager Boshko Gjurovski? What would you like to tell him about you can bring to the national team?
AL: I personally know the manager.  He is aware of my qualities since he was at Crvena Zvezda while I used to play for Partizan.  Therefore, everything is clear.  Now, I aim to prove myself at FK Rad and in the future to be under consideration by the manager for the national team.  I would like to extend luck for the new qualifying cycle.
---