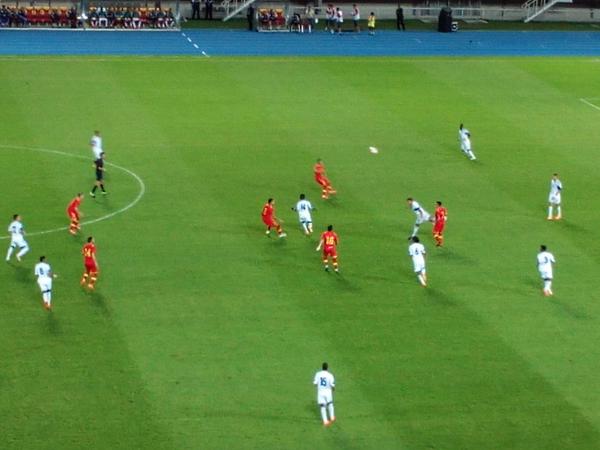 Moment during the game; photo: Filip ZdraveskiThe Macedonian U21 national team could not solve their counterparts from Israel as the visitors rolled to a comfortable victory.
The interim manager of the U21 squad, Vujadin Stanojkovikj, called up a very young squad for this qualifier against Israel, which served as the second to last game in the 2015 U21 EURO qualifications for Macedonia.  Since the Macedonian side has already been mathematically eliminated from qualifying, Stanojkovikj only called up players born in 1994 or later.  Players born in 1992 or 1993 were still eligible until the remainder of these 2015 qualifications, but no one from that age group was called up.  Instead, Stanojkovikj and FFM were focused on testing players that would be potential members during the next qualifying cycle.
The young players of Macedonia U21 struggled mightily versus the more battle tested Israeli players.  In a 1st half that was totally one sided, Macedonia U21 could not attempt one shot on goal.  Israel took the initiative and managed to score two goals before the break through a brace by striker Ofir Mizrahi.  Both goals were as a result of defensive miscues.  The keeper and defense were not on the same page on the first goal which led to Mizrachi lobbing GK Damjan Shishkovski, while the second goal came after the defense executed a poor offside trap.  Mizrahi found himself onside and scored an easy goal to make it 2:0 heading into halftime.

Macedonia U21 did improve after the break, creating two quality chances in the 55th and 67th minute.  The first opportunity fell to Shkendija's Demir Imeri whose shot hit the side netting after a good cross from the left by Boban Nikolov.  Then, in the 67th minute, Daniel Avramovski had a big miss that would have brought Macedonia back into the game.  However, Avramovski headed wide from a great position following a corner kick.  Israel, meanwhile, struck the post in the 76th minute before making it 3:0 in the 81st minute when substitute Shoval Gozlan completed the scoreline.
Macedonia U21 remained tied for last place in Group 8 of the 2015 U21 EURO qualifications.  They have just 4 points from seven games, tying them at the bottom with Azerbaijan U21.  Macedonia closes group play next month (9 September) when they take on Israel once again, this time on the road.
Video of the whole game (the goals are at 32:20, 40:00 and 1:24:20)
National Arena Philip II of Macedon in Skopje

 Macedonia U21 - Israel U21 
0:3 (0:2)
Goalscorers: 33', 41' Mizrahi, 81' Gozlan
Macedonia U21: Shishkovski; Amanovikj (46' Bejtulai), E. Asani, Zajkov (C), Ristovski; Velkovski, Bojku, Nikolov (58' Ivanov); Avramovski, Imeri, Radeski (64' J. Asani).
Israel U21: Levi; Ben Shimon (12' Azam), Gotlib, Vahaba, Dasa; Reichert (61' Gozlan), Kehat, Kinda, Saief (86' Seba); Mikha, Mizrahi.
Referee: Kristo Tohver (Estonia)
Yellow cards: E. Asani, Nikolov, Ristovski (M), Kinda (I)
Red cards: /
| | | | | | | | |
| --- | --- | --- | --- | --- | --- | --- | --- |
| | Group 8 |  MP |  W |  D |  L |  GD |  P |
| | Portugal | 6 | 6 | 0 | 0 | 17:4 | 18 |
| | Israel | 6 | 4 | 0 | 2 | 20:11 | 12 |
| | Norway | 7 | 3 | 0 | 4 | 10:17 | 9 |
| | Macedonia | 7 | 1 | 1 | 5 | 3:11 | 4 |
| | Azerbaijan | 6 | 1 | 1 | 5 | 5:12 | 4 |
---