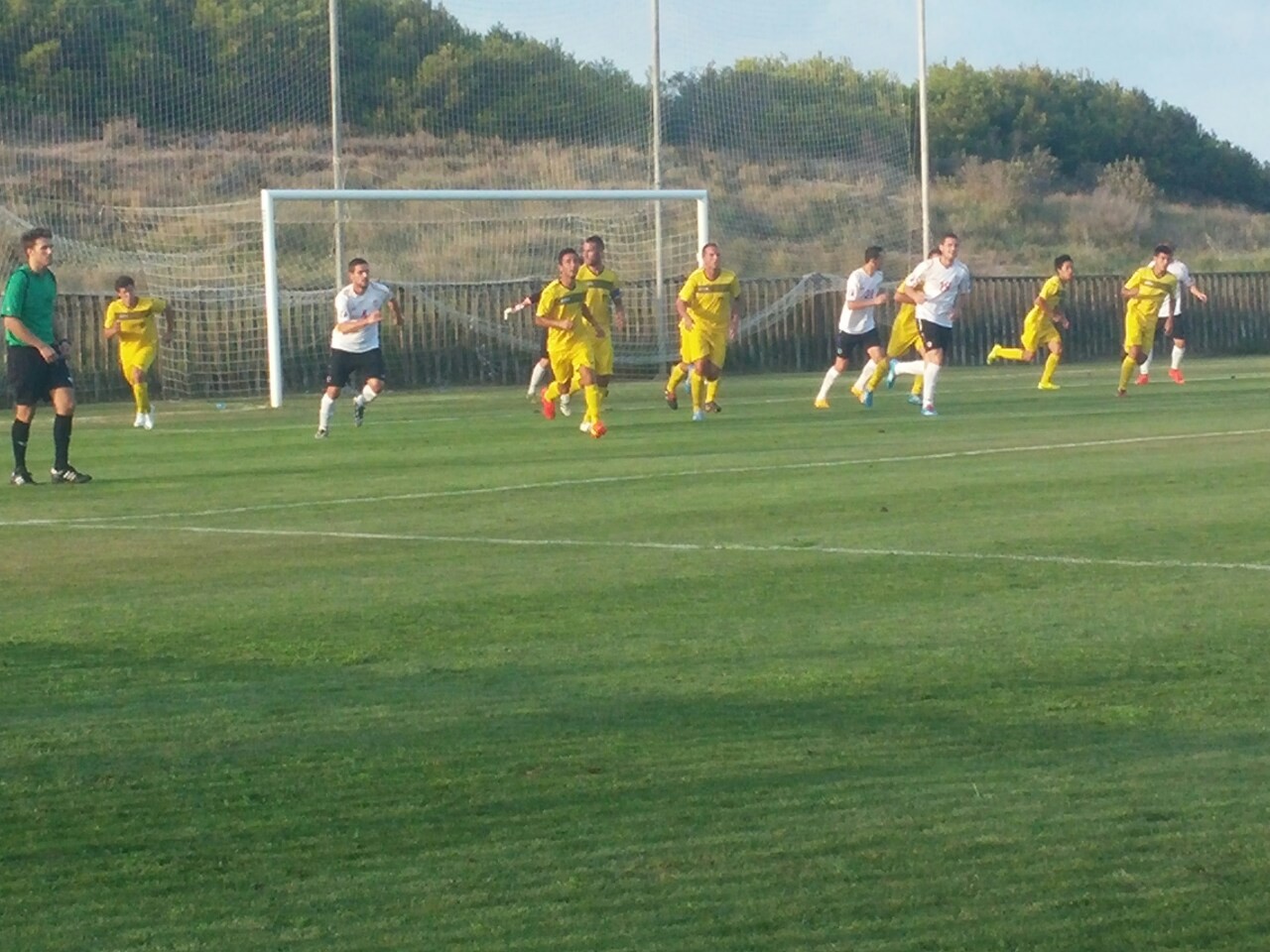 Photo from the game; photo: ffm.mkIn its final friendly before next Monday's qualifier against Spain, Macedonia celebrated a comfortable 4:0 win over lower division side CF Torre Levante Orriols.
The Macedonian national team notched an expected win in today's friendly with Spanish fourth division side CF Torre Levante Orriols.  Any other result would have simply been a disaster that would have further shattered the confidence of the players.  However, Macedonia proved superior to CF Torre Levante Orriols and won 4:0, scoring two goals apiece in each half.

No cameras were allowed at this game since the Macedonian federation did not want its planned formation getting out to Spain before Monday's qualifier.  However, despite those efforts, one website in telegraf.mk was able to learn the starting lineup which they published on their site.

Starting lineup (courtesy of telegraf.mk): Pachovski, Ristovski, Shikov, Mojsov, Damchevski, Alioski, Spirovski, Hasani, Trajkovski, Ibraimi, Jahovikj.

As you can see, based on the starting lineup, Macedonia played with 3 CB's in Shikov, Mojsov and Damchevski along with two wing-backs in Stefan Ristovski and Ezgjan Alioski.  We shall see if they go with a similar look in Monday's qualifier.

As for the friendly against CF Torre Levante Orriols, Macedonia had four different goalscorers.  Aleksandar Trajkovski and Adis Jahovikj scored in the opening half, while substitutes Krste Velkoski and Jovan Kostovski got on the scoresheet in the 2nd half.

Besides Macedonia, all members of Group C in the EURO 2016 qualifications played a friendly over the past couple of days.  As a reminder, the other national teams in Macedonia's group are Spain, Ukraine, Slovakia, Belarus and Luxembourg.

Results of this week's friendlies by the 6 national teams in Group C:

France - Spain 1:0
Ukraine - Moldova 1:0
Slovakia - Malta 1:0
Belarus - Tajikistan 6:1
Macedonia - CF Torre Levante Orriols 4:0
Luxembourg - Köln 1:1

From those friendlies, Macedonia clearly played the weakest opponent in CF Torre Levante Orriols.  Luxembourg also played a friendly against a club team (not another national team), but they faced German Bundesliga side Köln.  Spain was the lone team to lose its friendly this week, but they obviously played the toughest opponent in fellow European powerhouse France.
---