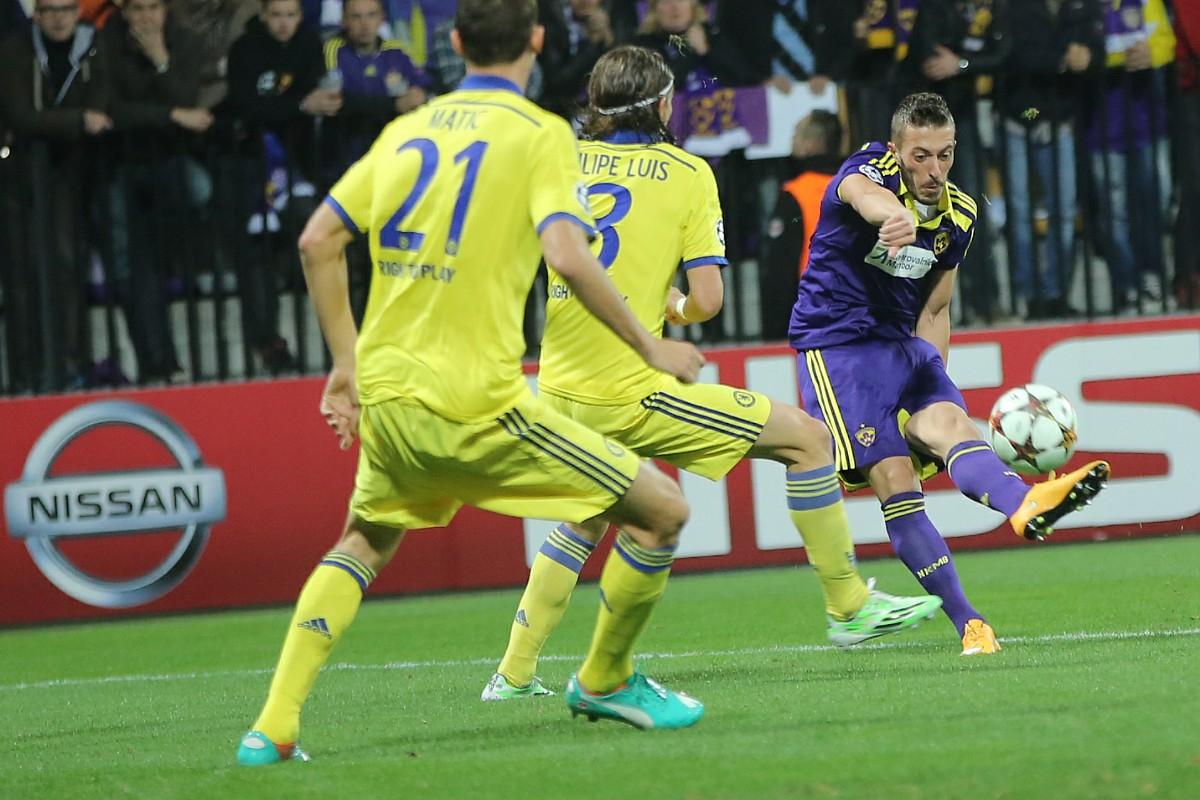 Agim scored on this shotAgim Ibraimi, who has been slowed down with the flu over the past week, was able to recover in time and scored a stunning goal in Wednesday's Champions League encounter versus Chelsea.
Agim Ibraimi had not trained much over the past week, ever since coming down with a bad case of the flu, but he was deemed healthy enough to start in Maribor's big game against Chelsea in the UEFA Champions League.  You don't play the likes of Chelsea often when you are stuck in Slovenia or the other Balkan countries, so Ibraimi did everything possible to be ready for this clash.

Agim also wanted some revenge since Maribor was embarrassed in the last matchday when they lost 6:0 to Chelsea in London.  Ibraimi also happened to miss a penalty in that game, so he was anxious for a second crack at Chelsea.

On Wednesday, Ibraimi was fielded on the left wing in a 4-4-2 formation for Maribor.  After a scoreless 1st half, Agim took it upon himself and scored a great goal in the 50th minute on a curling effort from the edge of the area.  Ibraimi squared up the ball with his left foot and sent a perfectly placed shot past the diving Chelsea keeper Petr Čech.
Video of Agim's goal:
Chelsea did manage to tie the game at 1:1 in the 73rd minute when Serbian international Nemanja Matić scored on an effort from close range.  Chelsea then had the chance to take the lead in the 85th minute, but Eden Hazard's penalty was saved by the Maribor keeper.  The match would finish 1:1 as Maribor clinched a hard fought point to keep alive its hopes of advancing in the Champions League.  Maribor has 3 points after four matchdays, trailing second placed Schalke 04 by two points.

Ibraimi, who was substituted in the 90th minute by Damjan Bohar, was the #1 trending topic on Twitter shortly after his goal.  That speaks of the power of football, and certainly it's the first time that any Macedonian footballer has been trending (let alone #1 in the world) on the popular social networking site.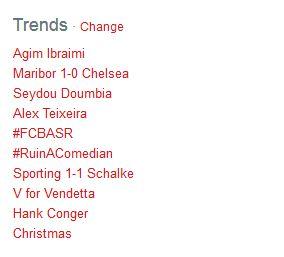 Top 10 trending topics in the world when Agim was #1 
For the other Macedonian internationals who were in action from this Monday to Thursday, you can view a recap of their play tomorrow when we publish the midweek internationals performances.
---