Macedonia vs. SlovakiaIt's already the fourth matchday in Group C of EURO 2016 qualifying as Macedonia faces a crucial home test against Slovakia.
Let's begin with positive news regarding the fixture between Macedonia and Slovakia.  Manager Boshko Gjurovski told "Kanal 5" (watch video below) on Thursday that Aleksandar Trajkovski will be ready for Saturday's game.  That is great news considering his availability was in question after he left Tuesday's training with an injury.  However, Trajkovski responded well to treatment and he will be ready to help Macedonia in this important match.
Video of Gjurovski's interview (about Trajkovski at 0:46):
Based on comments that the players have made this week, Slovakia is a team they respect but don't fear.  Adis Jahovikj told MRT that Slovakia played defensive football against Spain and offensive football versus Ukraine and Belarus in their three games to this point.  So, the expectation is that Slovakia will play offensive in Saturday's game if trends are any indication.  Jahovikj also noted that after watching the film, Slovakia was rather fortunate to beat both Ukraine and Belarus, since those two countries created a lot of chances.

Gjurovski made similar statements in that Slovakia is a very disciplined team, but they are beatable.  He sees their weakness being on defense where he will look to exploit their deficiencies.  Having Trajkovski will definitely help in that regard, but the absence of Agim Ibraimi will hurt.

The Macedonian manager will have to make some tough decisions regarding the starting lineup.  Gjurovski said he was pleased with the way his side played against Ukraine in the last match, but that doesn't mean we won't see new faces.  The biggest questions are at left CB, left-back, attacking midfield and one of the defensive midfield positions.  The other seven positions are pretty much set with Tome Pachovski (keeper), Stefan Ristovski (right-back), Vanche Shikov (right CB), Arijan Ademi (one of the defensive midfield spots), Aleksandar Trajkovski and Besart Abdurahimi (both behind the lone striker) and Adis Jahovikj (CF).

Who starts at left CB? Will Gjurovski stay with Damchevski or go back to Mojsov who missed the Ukraine clash due to an injury.  Damchevski has not played much over the past month for his club team (NAC Breda), so that can negatively affect his chance to get another start.  Meanwhile, Mojsov does play regularly for Brann in Norway and is fully recovered from his injury.  We believe that Mojsov will be given the nod at left CB.  Mojsov and Shikov are good friends who both hail from the city of Kavadarci, and they have a good understanding of one another in central defense.

Then, we move over to left-back.  Ezgjan Alioski did a fine job in defending Andriy Yarmolenko last month, but he faces a stiff test to remain a starter in the name of Daniel Georgievski.  The Australian-born Georgievski is back in form while playing for Melbourne Victory.  Georgievski, a natural right-back, does play left-back in Australia since that's where he is needed for his club.  If we had to guess, we believe that Georgievski will start at left-back vs. Slovakia.  Georgievski is more physical than Alioski and he is also more experienced, so that will likely give him the edge.

The next position to address is who will start next to Ademi in defensive midfield.  Will it be Muhamed Demiri or Nikola Gligorov?  Similarly to Damchevski, Demiri no longer plays much for his club team St. Gallen.  As a matter of fact, Demiri has remained on the bench in every game over the past month for the Swiss club.  Gligorov, on the other hand, is one of the key Vardar players, but it is important to mention that the Swiss league is considerably better than the Macedonian league.  Gligorov played in the Ukraine match after Demiri had to withdraw with an injury following that ugly collision with Mojsov in the Luxembourg encounter.  This is truly a 50/50 call, but we give the slightest of edge to Gligorov.  A midfielder must run a lot over 90 minutes to disrupt the opponent's attack, and Demiri not playing over the past month raises questions over his physical shape.  It's one thing when a keeper is not playing (Pachovski) and another when a midfielder doesn't.

Finally, the remaining lineup question is whether Mirko Ivanovski will get another start?  Besart Abdurahimi and Aleksandar Trajkovski (we know he's now healthy) are certain to start but the last spot behind the lone striker in Macedonia's 4-2-3-1 formation is a question mark.  Based on everything that we have heard, Gjurovski is deciding between Ivanovski and Aco Stojkov for that final spot.  Ivanovski is a player who scraps and gives you everything he has, but he is limited on the wing since he doesn't have great quickness.  Plus, his finishing has often been a problem.  Stojkov, meanwhile, has leapfrogged Krste Velkoski on the pecking order based on his current form with Rabotnichki (he has been on fire in the past couple of games).  Again, it's important to note he is doing it in the Macedonian league where the competition is not the best.  However, Gjurovski has watched Stojkov in person on several occasions over the past month, and he has come away very pleased with his play, leading to this call-up.  In saying that, our belief is that Ivanovski will remain the starter as Gjurovski will likely bring Stojkov off the bench for the final 30 minutes or so where he will look to capitalize on Aco's hot form at the current moment.  Gjurovski did a similar thing with Abdurahimi in the Luxembourg match.  Abdurahimi was on fire with Lokeren before last month's qualifiers, and Besart was then brought on off the bench in that Luxembourg clash where he made all the difference, including scoring the game winning goal in Macedonia's 3:2 win.
Macedonia's history with Slovakia is not a good one.  The two national teams have faced off six times in their history, and Slovakia has absolutely dominated the matchup with 4 wins and 2 draws (goal difference is +10).  However, most of the players involved in those previous meetings are no longer playing for their respective national team, so that will have no barring on Saturday's game.

As was previously stated, this is already the fourth matchday of Group C in EURO 2016 qualifying.  Gjurovski made it clear before the start of these qualifications that his goal was a 3rd place finish, a position that leads to the play-off.  If that is to remain realistic, then Macedonia must avoid defeat on Saturday.  A win would obviously be the best case scenario for Macedonia, but even a draw would not be a catastrophic result since it would extend the time that Macedonia stays alive in reaching its desired goal.  Assuming Spain wins the group (which most people still expect to happen even though Slovakia currently has the maximum 9 points at the top), Macedonia will likely be competing with Slovakia and Ukraine as to who will finish 2nd, 3rd and 4th.  So, these head-to-head matchups are vital in determining the final standings.

Pedro Proença, the well known referee from Portugal, was appointed by UEFA to be in charge of Saturday's qualifier.  Macedonia and Slovakia kick-off at 20:45 CET at the Philip II Arena in Skopje.
Previous meetings:
03.09.2000 Slovakia - Macedonia 2:0
07.10.2001 Macedonia - Slovakia 0:5
29.03.2003 Macedonia - Slovakia 0:2
10.09.2003 Slovakia - Macedonia 1:1
03.09.2010 Slovakia - Macedonia 1:0
11.10.2011 Macedonia - Slovakia 1:1

What formation would you field?  Let us know in the comments section and also give us your prediction when it comes to the score.
UPDATE: With the shocking news on Friday that Adis Jahovikj and Daniel Georgievski have been removed from the squad by Gjurovski for causing unrest within the NT, an opportunity opens up for Ezgjan Alioski and likely Jovan Kostovski for Saturday's game.  This is obviously terrible timing to lose both Jahovikj and Georgievski in this way, but the other players must step up.
Georgievski's statement on Facebook: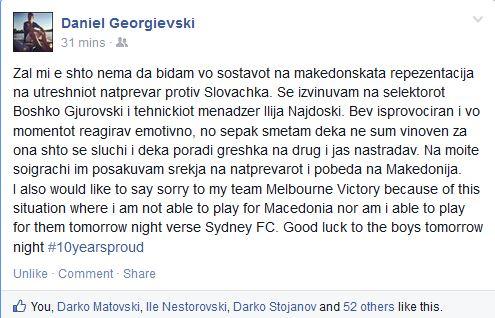 Daniel's message on Facebook
Statement by Jahovikj on Facebook:
---