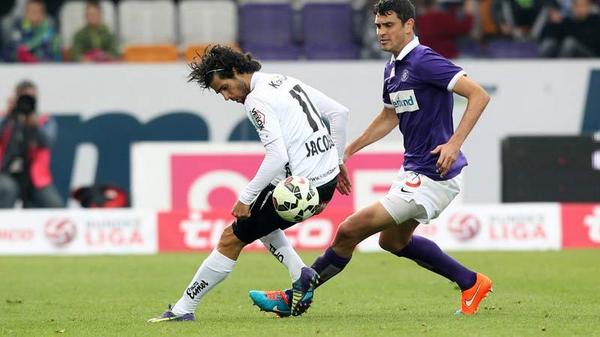 Shikov marking an opponentDespite what was reported as a lucrative offer from an unnamed club in Kazakhstan, Vanche Shikov told us he will stay with Austria Wien for the time being.
Reputable Austrian newspaper "Kurier" reported earlier this week that central defender Vanche Shikov could be leaving the club after he received a lucrative offer from a team in Kazakhstan. So, we contacted Shikov to ask him about the report, and this is what he said, "There was some contract, but in the end nothing happened and I will be staying with Austria Wien. We'll see if something maybe transpires in the future."

According to the twitter profile of SchnitzelFootball (who cover Austrian football), Shikov could be expendable at Austria Wien because he supposedly doesn't fit the high pressing system of the team's manager. Vanche only joined the club this past summer and played regularly during the 1st half of the season after he returned from an injury.
Shikov doesn't suit the high pressing manager Baumgartner wants to play. That's why #Admira defender Richard #Windbichler could join Austria

— SchnitzelFootball (@SchnitzelSoccer) January 14, 2015
With Shikov telling us that he will remain with Austria Wien for now, it remains to be seen whether he will keep his starting position when league play resumes next month.
---