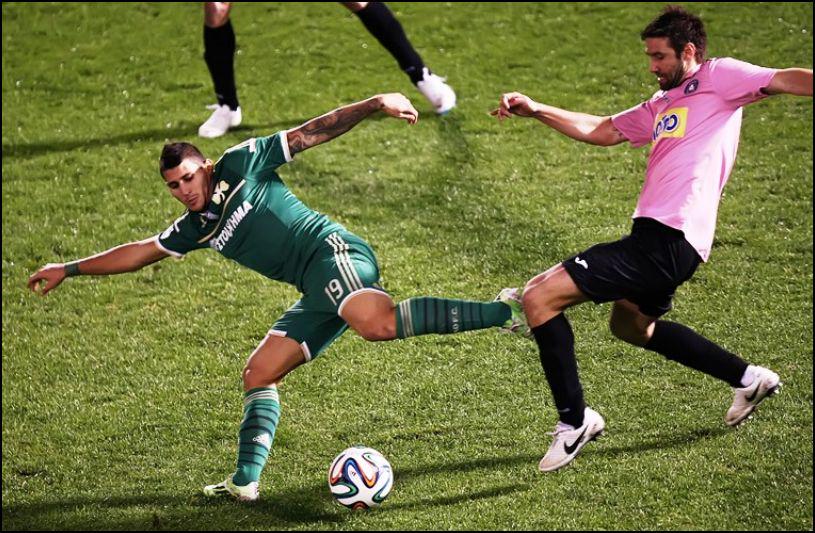 Dimitrovski defends for KerkyraVladimir Dimitrovski will be looking to impress national team manager Boshko Gjurovski who will be watching him in person on Sunday.
Central defender Vladimir Dimitrovski has demonstrated that hard work pays off. That has been the case during his brief time in the Greek league with Kerkyra. Signed as an afterthought with little notoriety, Dimitrovski has worked extremely hard to the point where he is now a regular starter for the team.

Vladimir has earned the trust of the Kerkyra manager and Greek media even reported earlier this week that the team is interested in signing Dimitrovski to an extension. He's only signed until the summer, so a new contract could very well be in the works.

What is so surprising about Dimitrovski is that he really came out of nowhere this season. Not much was expected given his stint with Vardar last year. He rarely played for the club under Russian coach Sergey Andreyev.

We talked to Vladimir to get his thoughts on why that was. He informed is that the problems stemmed from the fact that Andreyev wanted to play him as a full-back on defense. Dimitrovski was willing to that but let Andreyev know that his best position was as a central defender. That disagreement led to a bad relationship between the two. However, since Andreyev was the manager and had final say on lineup decisions, Dimitrovski was punished with little to no playing time.

Dimitrovski has put that chapter behind him and he's now focused on helping Kerkyra climb up the standings. He is slowly regaining the form that made him a good prospect while he played in the Czech Republic for Mladá Boleslav.
Based on our talks with Vladimir, he came across as a very intelligent guy who was knowledgeable about the situation within national team. He will have a great chance to make a statement on Sunday when Boshko Gjurovski watches him in person during the game between Kerkyra and Panetolikos.
Dimitrovski is 26 years old, so he's at the right age that puts him in the prime of his career. Given all of the problems at the center-back position, with many key guys no longer playing for their club teams, Dimitrovski has a very good chance to see his name in the Macedonian squad for the upcoming matches versus Belarus and Australia later this month.
---