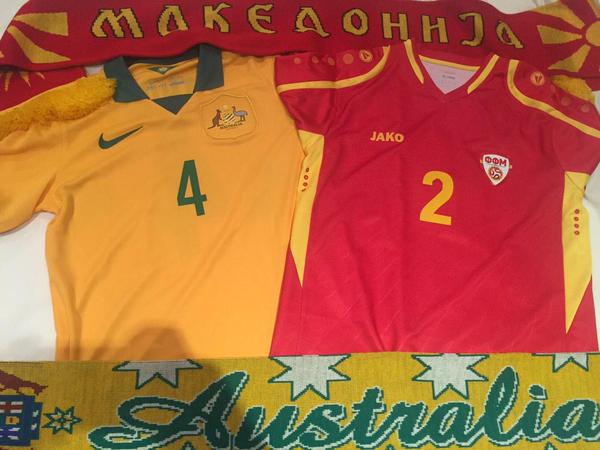 Macedonia and Australia; photo: Kire Georgievski TwitterAfter the disastrous performance versus Belarus, Macedonia gets right back to action on Monday night when they host Australia in a friendly.
First, there are several lineup changes heading into the Australia match. Tome Pachovski and Ferhan Hasani, Macedonia's two best players against Belarus, have been excused to leave the team's camp. Pachovski was complaining of a minor injury, but his absence will allow manager Boshko Gjurovski to test out the other two keepers, Kristijan Naumovski and Martin Bogatinov. Meanwhile, at the request of Brøndby, Macedonia agreed to let Hasani return to his Danish club early. Brøndby did not want Hasani, a player prone to injuries, to play two games in four days.

So, Macedonia is undoubtedly weakened with those two absences. Only one player was added to the squad in Rabotnichki left-back Mite Cikarski.
This Australia friendly will provide a good opportunity to test the psyche and mental fortitude of the Macedonian players. How will they respond to the adversity following the disastrous showing versus Belarus? It's during tough times that a person's true character is revealed. Let's see who rises up and who wilts.

There should be plenty of changes in the starting lineup. The younger players will likely get an extended look in this game, those being Darko Velkovski, Marjan Radeski and possibly Dushko Trajchevski.

Australia is a quality opponent who drew 2:2 away to Germany, the reigning World champions, this past Wednesday. They even outplayed Germany for large parts of the game, so they are coming to Macedonia with a lot of confidence. Furthermore, they also won the 2015 AFC Asian Cup earlier this year.
Macedonia's opponent is also missing key players, most notable among them being Tim Cahill, the leading scorer in the history of their national team. Australia is also expected to use this friendly to play some of their younger players, just like Macedonia.

This game will likely come down to motivation. Will Australia respect Macedonia or will they come in overconfident? If the latter, then Macedonia may have a chance, especially if the players respond well to the adversity. All of them are embarrassed right now. So, the way you make amends is to go all out and leave everything on the pitch.

One player whose motivation will be at a high level is Daniel Georgievski, an Australian-born player who now represents Macedonia, the country of his origin. He is fired up and ready to go. His motivation is further emboldened since Georgievski feels that he was ignored by Australia's national team, both on the youth and senior level. So, even though he has downplayed things, he will be looking to make a statement, no question. Daniel is already a very hyper guy that plays with a lot of energy, so hopefully he will be able to contain his emotion in a positive way.

Similar to Georgievski, this clash will be extra special for Australian-Macedonians, a sizable group that has love for both countries. Therefore, we will likely see split allegiances on Monday night.
Being Australian born with a Macedonian background means we're wearing dual colours next week! @Socceroos @MacedonianFooty
Macedonia vs. Australia will kick off at 21:00 CET at the "National Arena Philip II of Macedon" stadium. The match will be shown on MRT 1 in Macedonia, while Fox Sports will broadcast it in Australia.

To our Australian-Macedonian friends on this site, since you watch both national teams, how do you see this game playing out?
---