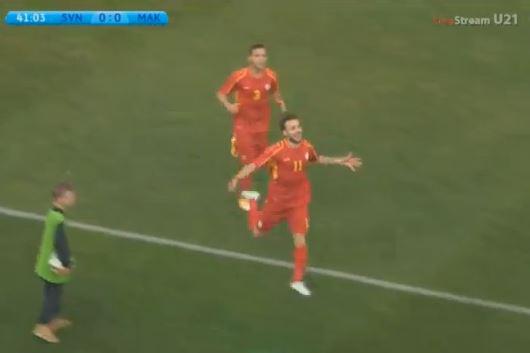 Pivkovski (11) celebrates his goalThe youth national team of Macedonia drew 1:1 in today's road test against their counterparts from Slovenia.
The U21 national teams of Macedonia and Slovenia played a friendly today in the city of Celje. This match served as preparation ahead of the start of the new qualifying cycle later this year. Macedonia was missing six key members in Darko Velkovski, Marjan Radeski and Enis Bardhi (all with the senior national team), David Babunski (club obligation) and Boban Nikolov and Taulant Sulejmanov-Seferi (both injuries).

Despite those absences, Macedonia U21 battled hard against Slovenia. The first quality chance came in the 14th minute when Valmir Nafiu, Macedonia's captain, sent a shot from a great position wide of the goal. Besides that, the 1st half lacked much excitement until the 41st minute when Filip Pivkovski broke the deadlock. He fired a shot from a tight angle that just barely crossed the line. The Slovenia keeper bobbled the shot, causing the ball to just cross the line.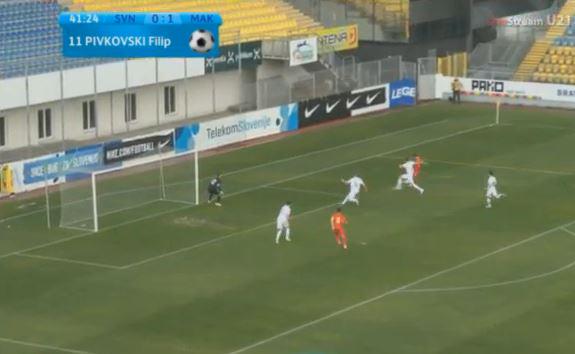 Goal came on this shot
Early in the 2nd half, both teams had good opportunities, but each keeper managed to make a save. Macedonia attempted a long free kick that was parried away by the keeper, while Slovenia fired a shot that was stopped nicely by Damjan Shishkovski who came on at the start of the 2nd half for Dejan Iliev.

Slovenia did grab an equalizer in the 73rd minute when a cross from the right hand side was tapped-in from close range. This stage of the game also saw numerous substitutions which slowed down the tempo.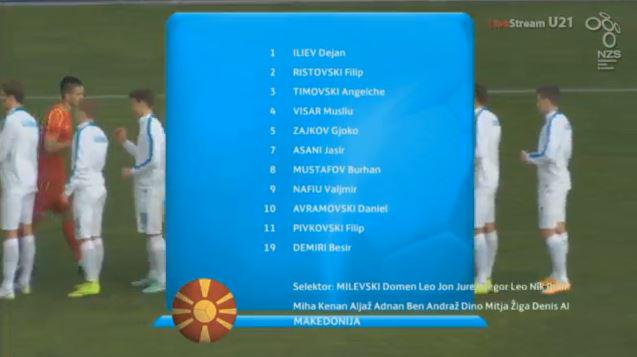 Macedonia's starters
Overall, the draw was a fair result. Considering the roster that Macedonia had at its disposal, they should be pleased with their play today.
Video of the complete game (goals at 51:30 and 1:41:00):
Macedonia U21: Iliev (46' Shishkovski), Ristovski, Timovski (80' Imeri), Musliu, Zajkov, Mustafov (71' Cheshmedjiev), Asani (18' Denkovski), Demiri, Avramovski (55' Angelov), Pivkovski (71' Markoski) Nafiu (84' Kostadinov).
---