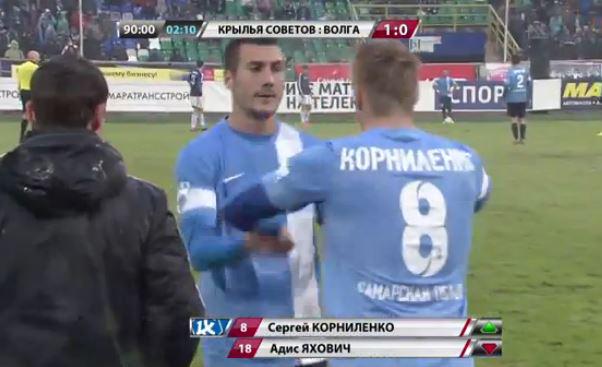 Kornilenko comes on late for JahovicSergei Kornilenko, the Belarus striker who scored the winning goal against Macedonia, serves as the backup to Adis Jahovic at Krylia Sovetov.
That photo above of Sergei Kornilenko replacing Adis Jahovic perfectly demonstrates the plight of Macedonian football. Kornilenko, the guy who scored the game winning goal for Belarus against Macedonia, coming on for Adis Jahovic, the player banned from the national team after a falling out with manager Boshko Gjurovski. And, this is not a one time thing when it comes to today's substitution. Kornilenko serves as the backup to Jahovic at Russian club Krylia Sovetov.

You can't make this stuff up. Gjurovski's fate was likely sealed by a player (Kornilenko) who is linked to Jahovic, the striker who was jettisoned out and made a scapegoat by Gjurovski.

Even once Boshko Gjurovski leaves the managerial post, the return of Adis Jahovic to the national team is not a given. Besides Gjurovski, he also offended the Macedonian federation (after he was sent home following his bust-up with Daniel Georgievski) and that was something that didn't sit well with some people there.

So, the next manager, whoever he is, will have to decide who is more important to the team, Adis Jahovic or Daniel Georgievski. It comes down to that since you can't call up both players. They despise one another and it would be a toxic atmosphere to have them both around the team.

To our readers, who do you view as the more important player for the national team? Jahovic or Georgievski?
---