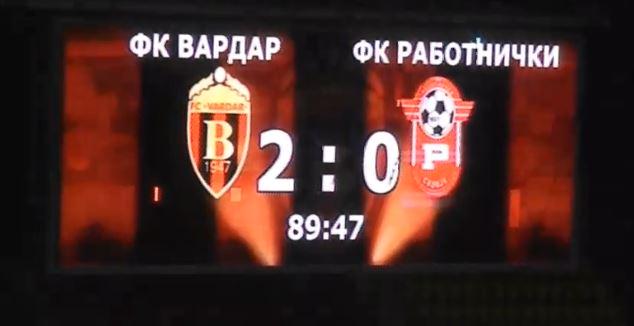 The scoreboard in the 90th minuteVardar beat Rabotnichki in the Skopje derby, Shkendija dismantled Turnovo, Metalurg clinched a top-6 finish despite only drawing 0:0 against Teteks, Bregalnica defeated Sileks, while Pelister and Renova shared the points in Bitola.
Pelister was able to achieve a good result by snatching a point in the 1:1 draw against in-form Renova. Petar Ljamchevski scored an early goal for Pelister in the 5th minute when his effort just crossed the line, but the team then got too defensive. That philosophy of protecting such an early lead did not work out as the league's leading scorer, Izair Emini, scored an equalizer in the 37th minute. Pelister did, however, take some risks in the 2nd half and created several quality chances which they could not convert.
Some highlights of the game:
Pelister: Dragojević, Todorovski, Stepanovski (65' Smokovski), Cheshmedjiev, Mustafov, Velkoski, Stanojević (77' Tsirlidis), Petreski (46' Anastasov), Ljamchevski, Milenkovski, Biljali.
Renova: Mustafi, Musliu, Mecinovikj, Mishkovski, Memedi, Mojsov (80' Redjepi), Sadiki (74' Skenderi), Fetai, Nuhiu, Emini, Ramadani (82' Selmani).
In Shtip, Bregalnica took advantage of a relaxed Sileks side to win 2:0. Sileks did not have much to play for since they already clinched a top-6 finish with this being the final round of the regular season. Thus, Sileks made several changes to its starting lineup, deciding to rest some of their key players for the upcoming matches in the championship play-off. Angel Nacev netted a brace, one in each half, to lead the way for Bregalnica. Furthermore, keeper Filip Gachevski has now gone 797 minutes without conceding a goal after this latest clean sheet.
Bregalnica: Gachevski, Mitrev, Gjoreski, Tonev, Stojanov, Nikovski, Kocev, Hristov (76' Aleksandrov), Zdravkov (68' Ristovski), Iliev (52' Velkovski), Nacev.
Sileks: Nikov, Timovski, Jakov, Djonov (75' Ristevski), Rudan, Bagashovski, Radaković (57' Todorov), Acevski, Nedeljković, Velinov, Marić (79' Gorgiev).
Metalurg, meanwhile, continued to have problems with last placed Teteks. Metalurg lost a home game against Teteks in the 1st half of the season, and followed that up with a goalless draw today. Teteks even had a player sent off early in the 2nd half, but Metalurg could not capitalize. Metalurg now leads 7th placed Turnovo by three points, but Turnovo obviously has a game in hand. Turnovo will need to beat Shkendija by at least five goals on Tuesday (very unlikely) to overtake Metalurg. Goal difference is the first tiebreaker in case of a tie. Since that result is very unlikely, Metalurg should officially clinch a top-6 finish this Tuesday after the conclusion of the Turnovo game.

Metalurg: Taleski, Ristovski (90' Bakracheski), Petrov, Ilieski, Gjorgievski, Tanturovski, Jevtoski, Angelov (63' Krstev), Naumoski (46' Bujchevski), Stojanovski, Radeski.
Teteks: Manchevski, Najdovski, Stojchevski, Atanaskoski (60' Oslonovskiy), Cvetanoski (52' Drobarov), Stojkovski, Bozhinovski, Nachevski, Adem, Hristov, Churlinov (78' Jovanoski).
Shkendija recorded an easier than expected win over Turnovo. Bojan Vručina opened the scoring in the 12th minute when he fired a shot from the edge of the area past Turnovo keeper Kostadin Zahov. At the hour mark, Alimi also saw his shot get past the diving Zahov for a goal. Substitute Hristijan Kirovski made it 3:0 in the 73rd minute when he send a close range effort to the back of the net. The scoreline was completed in the 89th minute when Victor Juffo received a pass and tapped the ball past the hapless Zahov.
Highlights from the game:
Turnovo: Zahov, Tashev (46' Djinov), Mavrov, Iliev, Milushev, Tanushev, Ivanov, Stoilov (32' Doriev), Najdenov, Gjorgiev (46' Kochoski), Pandev.
Shkendija: Jovanovski, Bejtulai, Berisha, Polozhani, Abdula, Demiri, Alimi, Totre (56' Bojku), Juffo, Stênio Júnior (70' Kirovski), Vručina (80' Imeri).

Vardar, meanwhile, extended its lead at the top of the table over second placed Rabotnichki to six points. That comes as a result of Tuesday's 2:0 triumph in Skopje. Rabotnichki was very poor in its finishing, especially Chuma Anene, and that proved costly as Vardar scored two goals in the 1st half. Vardar decided to make numerous lineup changes, including fielding Dejan Blazhevski at CF with Filip Ivanovski and Filip Petkovski not playing well. Blazehsvki responded with a goal and veteran Vlatko Grozdanoski netted the opener midway through the 1st half.
Vardar: Pachovski, Hambardzumyan, Grncharov, Bojovic (50' Ljamchevski), Popov, Gligorov, Spirovski, Grozdanoski, Dashyan, Asani (71' Ibricic), Blazhevski (85' F. Petkovski).
Rabotnichki: Bozhinovski, Ilievski, Velkovski, Siljanovski, Cikarski (87' Tih. Fidanoski), Petrovikj, Vujčić, Markoski (55' Sahiti), Anene (80' Teo. Fidanoski), Altiparmakovski, Ilijoski.

Round 27 results:
Pelister - Renova 1:1 (1:1)
5' Petar Ljamchevski - 37' Izair Emini
Bregalnica - Sileks 2:0 (1:0)
8', 68' Angel Nacev
Metalurg - Teteks 0:0
Turnovo - Shkendija 0:4 (0:1)
12' Bojan Vručina, 61' Armend Alimi, 73' Hristijan Kirovski, 89' Victor Juffo
Vardar - Rabotnichki 2:0 (2:0)
22' Vlatko Grozdanoski, 39' Dejan Blazhevski
---