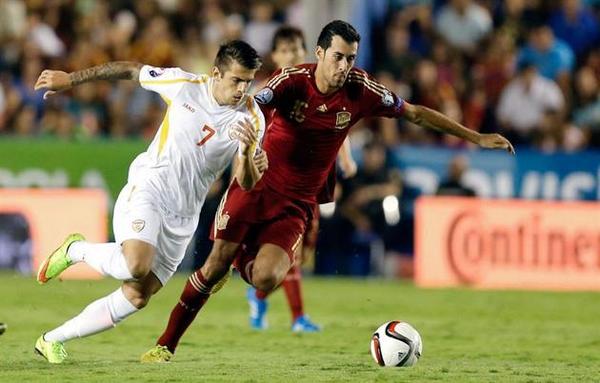 Trajkovski tries to get past Sergio BusquetsIf media reports are to be believed, Aleksandar Trajkovski could soon be moving to Italian Serie A side Palermo.
As it was reported last month, the 22-year-old Aleksandar Trajkovski was looking for a new challenge after spending the past four years in Belgium. He has one year remaining on his contract, but Zulte Waregem is open to selling the player. It has recently been revealed that Palermo is interested in signing Trajkovski.

Now, we don't know for sure whether that rumor is true, but Trajkovski did retweet a post from a Belgian newspaper about him being linked to Palermo on his twitter feed. That does give validity to the rumor, because why would a player retweet a post about him being linked to another team if it wasn't true? Trajkovski even began following Palermo's official account earlier this week.
Trajkovski is an ascending player who has performed well for Macedonia and his club teams. If you look at his numbers on the club side, the goal-to-games ratio is not overly impressive, but you have to keep in mind that he mostly plays in midfield or on the wings.
Aleksandar has scored a total of 13 goals in his 105 league appearances over the past four seasons in Belgium. That included 10 goals in 83 league caps for Zulte Waregem, and 3 goals in 22 league caps for Mechelen. As a reminder, Trajkovski was loaned to Mechelen for the 2013-14 season.

Palermo is a well known Italian club that fell on hard times two years ago when they were relegated. However, they quickly bounced back to win the Serie B title last season, thus returning to the top division ahead of the 2014-15 campaign. So far, after 34 rounds, Palermo sits in a tie for 10th place with AC Milan. There are four rounds remaining in the 20 team league.

Let's hope that this transfer does get done because Macedonia could surely benefit from having national team members playing in the top European leagues.

What do you guys think? Would Palermo be a good fit for Trajkovski?
UPDATE: Palermo's outspoken chairman Maurizio Zamparini was quoted in Italian newspapers as saying a deal has been reached for Trajkovski, but Zulte Waregem denied such news. They took to Twitter to report there is indeed interest in Trajkovski, but no deal has been struck with another club.
Er is inderdaad interesse voor @alextrajko. Nog geen sprake van een overeenkomst met een club.
As a reminder, Trajkovski has one year remaining on his contract. He is NOT a free agent, so Palermo would have to pay a transfer fee to Zulte Waregem for Trajkovski's services.
---