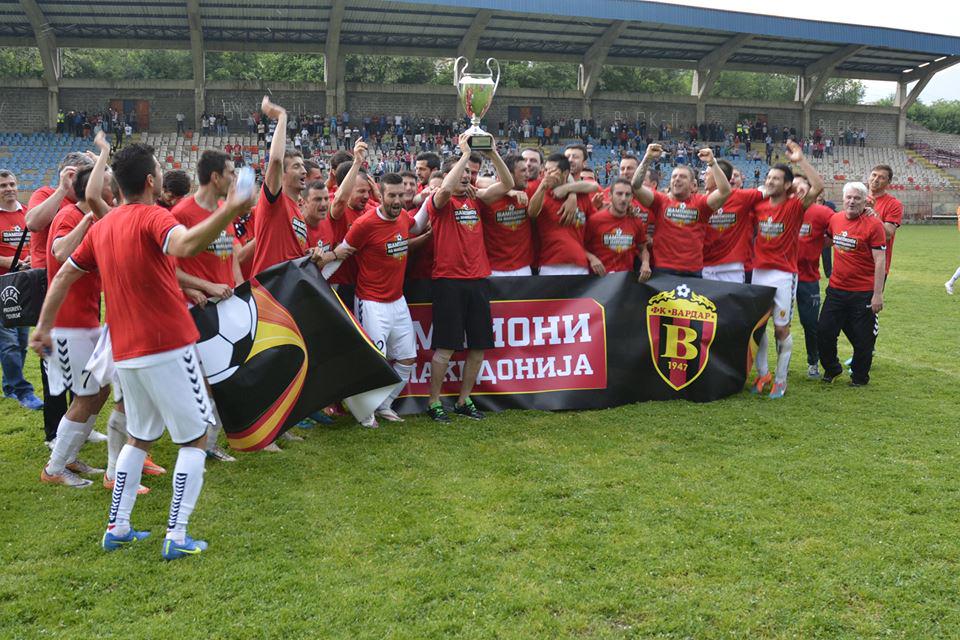 Vardar celebrates; photo: VardarIn a round where there was no drama, every position on the table had already been decided, Vardar was presented the trophy for winning the league title.
In the city of Kratovo, a relaxed atmosphere saw Vardar be given the league trophy by the Macedonian federation. Vardar was resting many key players, the only "big name" in their starting lineup being Goran Popov. He served as the captain and interestingly played in central defense, not left-back. Most other regular starters over the past month were given a rest by manager Sergey Andreyev. Veteran Vlatko Grozdanoski also started, but he is no longer the player that he once was. The match would finish 2:2 with every goal being scored in the 2nd half.
Sileks: Simov, Mickov, Rudan, Acevski, Todorov, Gorgiev (65' Marić), Duranski, Nedeljković (87' Mitevski), Timovski, Djonov, Kocev.
Vardar: Kobetić, Popov, Bojović, Ljamchevski, Stojanovski (62' F. Petkovski), Serafimovski (46' Despotovski), Dashyan, Asani, P. Petkovski (78' Glishikj), Grozdanoski, Ivanovski.
Rabotnichki, coming off winning the domestic cup trophy on Wednesday, played Renova in the final game of the season. The club also rested many of its regulars, with a few exceptions. One of them was Marjan Altiparmakovski who recorded a brace. He was matched by Renova's Izair Emini who also scored two goals. Emini and Altiparmakovski are two of the leading goalscorers in the domestic league this season. In the end, this high scoring clash ended 3:3.
Renova: Neziri, Musliu (55' Selmani), Mecinovikj, Mishkovski, Memedi, Velija, Mojsov, Jusufi (67' Markovski), Gafuri, Nuhi, Emini.
Rabotnichki: Efremov, Siljanovski (53' Jocikj), Dodevski, Velkovski, Cikarski, Petrovikj, Trajchevski, Vujčić, Anene, Altiparmakovski, Ilijoski.
Shkendija was without seven key players as the manager allowed them to begin their vacation early. The club will participate in the Europa League qualifications this summer, but they begin early so they won't have much free time. Thus, he allowed them to take their vacation now, relaying on seldom used players in today's match versus Metalurg. Despite that, Shkendija still downed Metalurg 2:1 thanks to goals by Muhamed Useini and Hristijan Kirovski.
Shkendija: Azizi, Abdula, Berisha, Adili, Murati, Useini, Demiri, Bojku (71' Totre), Asani (60' Kirovski), Imeri (88' Lama), Vručina.
Metalurg: Ilikj, Ristovski, Gjorgievski, Krivanjeva, Ilieski, J. Naumoski, Bakracheski (85' B. Naumoski), Jevtoski (69' Mitrov), Tanturovski (61' Jakimoski), Radeski, Angelov.
In the relegation play-offs, this was not the final round as those four teams have one more round to go, unlike the championship portion of the competition.

As for Sunday's fixtures there, Bregalnica edged Turnovo 1:0 on the road, while Pelister and Teteks shared the points in a 2:2 draw.
Turnovo: Zahov, Iliev, Tashev, Djinov, Milushev, Ivanov, Kochoski, Tanushev (68' Bozhinov), Mavrov, Markov, Krstovski.
Bregalnica: Gachevski, Mitrev, Stojanov, Stanković, Blazheski, Ristovski, Hristov, Andonov, Velkovski (70' Nikovski), Kocev, Stupić.
Pelister: Pashovski, Belevski, Atanasovski (67' Georgievski), Mustafov, Anastasov, Talevski, Trifunovski, Sulemani (60' Kuzmanov), Micevski (26' Lavurovski), Petreski, Ljamchevski.
Teteks: D. Pavlov, Toshevski, Popzlatanov (77' Murdjeski), Stojkovski, Mishovski, Atanaskoski, Filipovski (46' Drobarov), Jovanoski, Kostadinov (64' Krstevski), Cvetanoski, Hristov.
Round 32 results:
Vardar - Sileks 2:2 (0:0)
65' Vlatko Grozdanoski, 85' Filip Ivanovski - 46' Nikolcho Gorgiev, 85' (own goal) Filip Despotovski
Renova - Rabotnichki 3:3 (1:1)
21', 86' Izair Emini, 57' Remzifaik Selmani - 16' Kire Markoski, 58', 72' Marjan Altiparmakovski
Shkendija - Metalurg 2:1 (1:1)
38' Besir Demiri, 74' Hristijan Kirovski - 21' Viktor Angelov
Turnovo - Bregalnica 0:1 (0:0)
75' Angjel Nacev
Pelister - Teteks 2:2 (1:0)
45' Ensar Sulemani, 56' Petar Ljamchevski - 55' Simeon Hristov, 62' David Atanaskoski
---