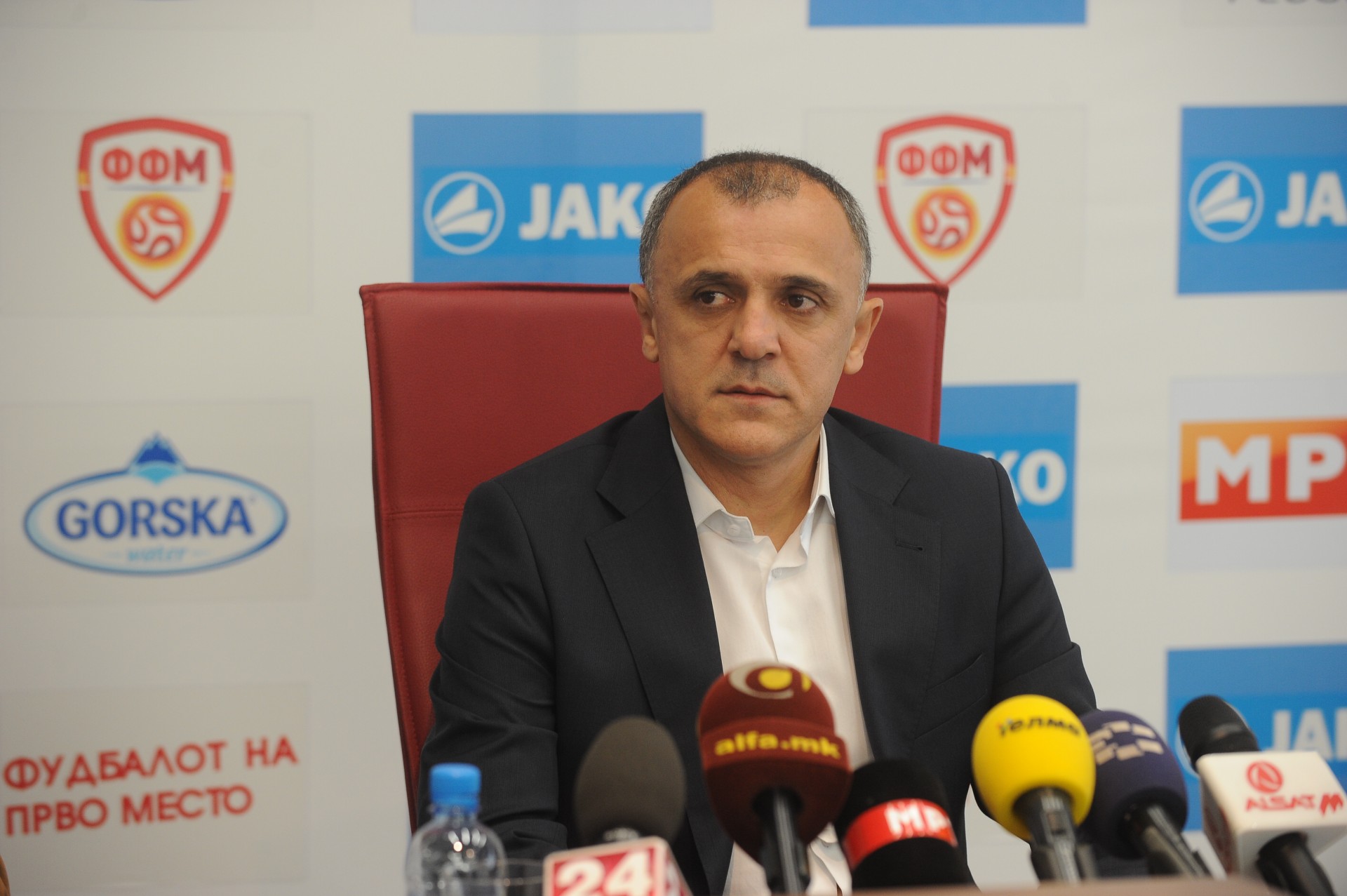 Drulović during today's press-conference; photo: FFMLjubinko Drulović announced the list of players for the upcoming EURO 2016 qualifier against Slovakia on June 14.
At his introductory press conference, Ljubinko Drulović called left back the most problematic position. He wasn't kidding as he shook things up there. Daniel Georgievski was dropped after playing in the prior matches, while Leonard Zhuta was summoned from the Swedish league. Also, Ezgjan Alioski will be available at that position.
There are several new names on the list such as central defender Vladimir Dimitrovski, goalkeepers Filip Gachevski and Stole Dimitrievski, and left back Leonard Zhuta.
One player who is not on the list is Uroš Matić. He has still not received clearance from FIFA.
Overall, the first squad for Drulović is fine. You can't have too many objections. A case can be made that Ostoja Stjepanovikj and Stefan Spirovski don't deserve a spot, but defensive midfield is very thin. Ostoja is currently a bench player in Poland (hasn't seen much action at all), while Spirovski has never been convincing anywhere he's been. There's also Vanche Shikov who has a difficult club situation on his hands. Other surprises are Kire Ristevski and Aleksandar Todorovski.
Adis Jahovikj was hoping to be back on the team, but he was once again excluded. Both him and Georgievski, the players who got into a dust-up before the first Slovakia meeting this past November, were dropped by Drulović.
It was previously announced that no U21 players would be called up for this Slovakia clash since the youth side is beginning new qualifications next month.
This roster also sees a number of returnees to the team. Guys that fell out of favor with Boshko Gjurovski, but were brought back by Drulović include Daniel Mojsov, Aleksandar Todorovski, Ezgjan Alioski, Stefan Spirovski, Muarem Muarem, Jovan Kostovski and Mirko Ivanovski.
Yesterday, Slovak manager Ján Kozák announced his squad which you can view by clicking here.
Complete squad:
Tome Pachovski - Vardar

Filip Gachevski - Bregalnica

Stole Dimitrievski - Granada
Vanche Shikov - Austria Wien

Vladimir Dimitrovski - Kerkyra

Daniel Mojsov - Lierse

Aleksandar Todorovski - Zagłębie Lubin

Kire Ristevski - Tirana

Stefan Ristovski - Latina

Ezgjan Alioski - Schaffhausen

Leonard Zhuta - Häcken
Arijan Ademi - Dinamo Zagreb

Stefan Spirovski - Vardar

Ostoja Stjepanovikj - Wisła

Dushko Trajchevski - Rabotnichki

Aleksandar Trajkovski - Zulte Waregem

Besart Abdurahimi - Lokeren

Ferhan Hasani - Brøndby

Muarem Muarem - Qarabağ

Agim Ibraimi - Maribor
Mirko Ivanovski - Videoton

Krste Velkoski - Sarajevo

Jovan Kostovski - Leuven
Macedonia will face Slovakia on June 14 at the "pod Dubňom" stadium in Žilina. The game will kick-off at 20.45 CET.

---