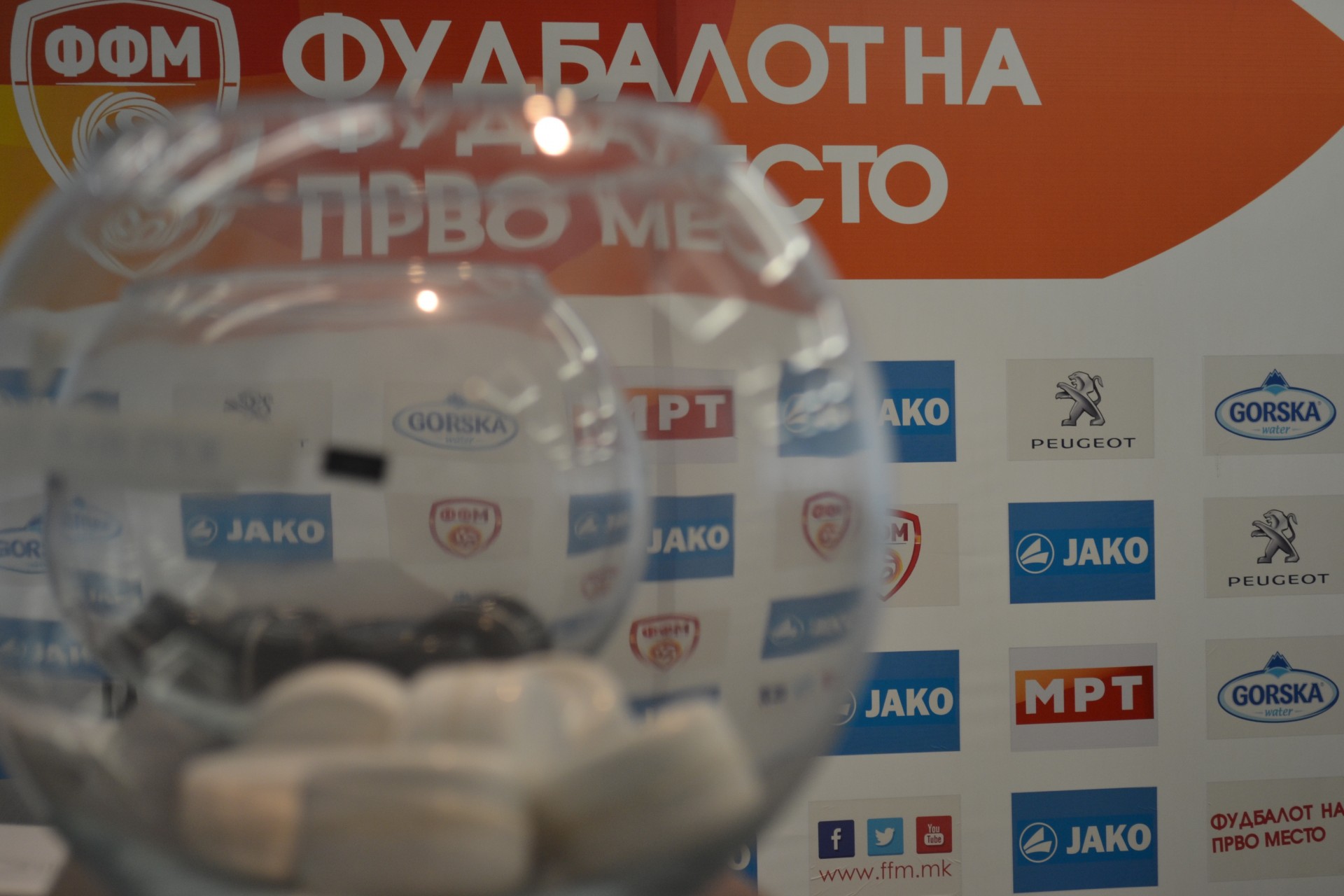 The draw; photo: FFMPobeda will face Belasica in one of the machups that was drawn today for the three remaining spots in the Second League for the 2015-16 season.
From the six teams participate in today's draw, the two most popular were undoubtedly Pobeda and Belasica. Both were hoping to be promoted to the Second League, but that will not happen. Instead, they were drawn to face one another. Thus, the loser will remain in the Third League.
Earlier this morning, the Macedonian federation (FFM) conducted the draw for the last 3 places in the Second League.
These are the pairs:
Zajazi (3.MFL West winner) vs. Gorno Lisiche (2.MFL eighth-placed)
to be played at the Gradski stadium in Shtip
Ljubanci (3.MFL North winner) vs. Veleshta (3.MFL South-West winner)
to be played at the Goce Delchev stadium in Prilep
Pobeda (3.MFL South winner) vs. Belasica (3.MFL East winner)
to be played at the Gjorche Petrov stadium in Skopje
The only Second League side in the draw, Gorno Lisiche (by finishing in 8th place) was drawn to face the winner of the Third League West, Zajazi. Gorno Lisiche is the heavy favorite in that matchup.
A close battle is expected in the matchup between Ljubanci of the North and Veleshta of the South-West. Ljubanci has some experienced players, but their league didn't challenge them as it was very easy to win, while Veleshta had a much harder task in the South-West which was a lot more competitive than the North.
However, the most interesting duel will be the one between Pobeda against Belasica. The fans of both teams were hoping to avoid each other, so each side could get promoted, but the draw had something to say about that. Both teams have high ambitions, and this should be a closely contested affair.
Two legs will be played in all three matchups, both on a neutral field. The first games are scheduled for June 3, while the return games are set for the 7th. All games will kick-off at 16.00 CET. The locations for all fixtures will be revealed later.
Also, it was confirmed the location for the two legs of the play-off for filling the First League. As previously known, Turnovo, who finished eighth will face the third-placed of the Second League, Gostivar.
Turnovo (1.MFL eighth-placed) vs. Gostivar (2.MFL third-placed)
to be played at the Gradski stadium in Probishtip
---