The young Macedonians lost 2:1 in the first of their three friendlies over the coming 12 days. The next opponent will be Sweden.
Macedonia U19 was able to create chances, but their finishing left a lot to be desired. In the end, the only thing that matters is the final score and Bulgaria U19 came out on top. The first half saw Macedonia have more of the initiative, but the score remained goalless. For instance, Petar Petkovski hit the post in the 33rd minute and Martin Hristov failed to score on the rebound.
The second half got underway and Bulgaria scored a quick goal to break the deadlock. Tomas Tsvyatkov got on the scoresheet in the 47th minute. Macedonia, though, was able to level the score 20 minutes later. It was through the captain, Vardar winger Petar Petkovski. He was promoted to the first team of Vardar for the second half of the season, and he was Macedonia's best player on Sunday. In the 76th minute, Bulgaria U19 would score the game winner when Georgi Kupenov sent his effort past the Macedonian keeper.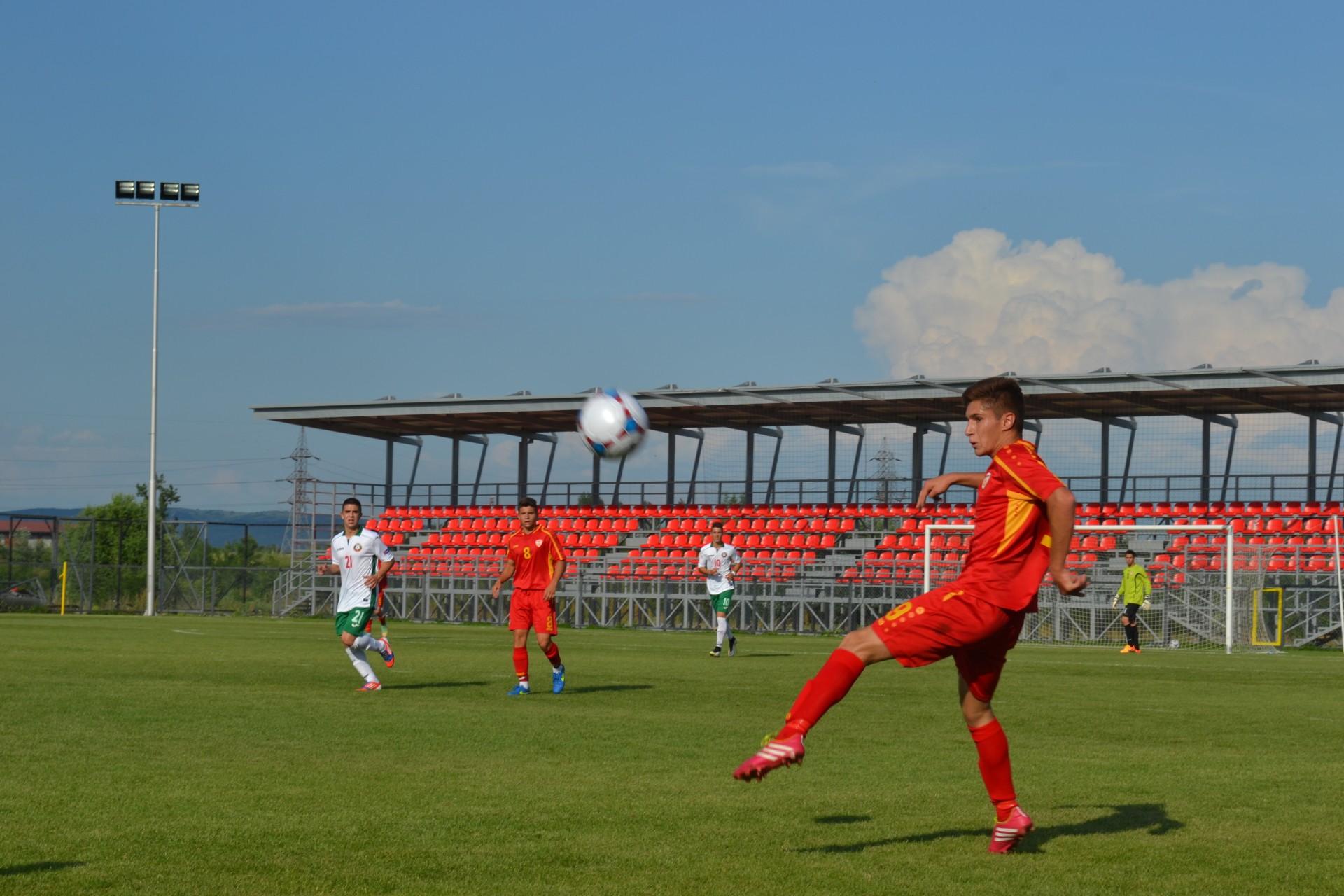 Moment in the game; photo: FFM
U19 national team coach Goran Stanikj was content in the showing, but disappointed in the result. "I am satisfied with the play, but obviously not with the final result. The same thing has repeated in the past few games. We play well but don't get a positive result. We will work on this issue intensively in order to fix it."
Macedonia U19 will now resume their training camp where they will be preparing for their next two friendlies, scheduled for June 9 and 11 against Sweden. They will also be played in Skopje.
Petar Miloshevski stadium in Skopje
Macedonia U19 - Bulgaria U19 1:2 (0:0)
Goalscorers: 67' Petar Petkovski - 47' Tomas Tsvyatkov, 76' Georgi Kupenov
Macedonia: Filip Ilikj; Slobodan Bocevski (Stefan Lazarevikj), Hristijan Karanfilovski, Nehar Sadiki (Valentin Kochoski), Shaip Tela, Stefan Jevtoski, Matej Cvetanovski (Filip Krstevski), Davor Zdravkovski, Petar Petkovski (C), Besart Iseini (Sashe Shoposki), Martin Hristov (Remzifaik Selmani).
Bulgaria: Mihail Mihailov; Stoycho Atanasov, Georgi Kupenov, Ventsislav Kerchev (C), Stefan Alichkov, Denislav Aleksandrov (Georgi Gushlev), Rangel Ignatov (Ivaylo Angelov), Tomas Tsvyatkov (Tonislav Yordanov), Galin Minkov (Angel Lyaskov), Angel Maksimov (Georgi Yanev), Emil Iliev.
Referee: Nikola Kostenchev (Macedonia)
---