Ibraimi lifts the league trophy; photo: MariborThis season was unprecedented for Macedonian internationals as they won a total of 22 league and cup trophies throughout the world.
None of the combined 22 league and cup trophies were won in the top five European leagues, but that is not a surprise since few Macedonian internationals play in those competitions. Instead, most of the league and cup glory took place in lower level leagues.

Four players won the double crown with their respective clubs. Arijan Ademi (Dinamo Zagreb), Goran Pandev (Galatasaray), Muarem Muarem (Qarabağ) and Valmir Nafiu (APOEL) were the players whose teams won both the league and cup this season. So, they count for 8 of the 22 trophies.

The following 10 players won league trophies with top division clubs:

Arijan Ademi (Dinamo Zagreb, Croatia) - Ademi was instrumental in leading his club to a dominant season. Dinamo Zagreb did not lose a game this season, notching 26 wins and 10 draws in league play. Ademi served as the captain in most of those fixtures.
Agim Ibraimi (Maribor, Slovenia) - Agim had a quiet season for Maribor. Many of the club's fans thought he performed below expectations. Ibraimi only compiled 2 goals and 6 assists, despite playing regularly on the wing. Still, Maribor continued to dominate in Slovenia.
Goran Pandev (Galatasaray, Turkey) - Pandev was a non-factor in Galatasaray's league campaign. Only made four appearances without scoring a goal. He was excluded from the matchday squad in most games.
Daniel Georgievski (Melbourne Victory, Australia) - Georgievski was the starting left-back for the top placed team in Australia. He started well, then had some shaky moments, but closed the season well. Most fans of Melbourne Victory were pleased with his performances.
Krste Velkoski (Sarajevo, Bosnia) - Velkoski had an up, down and then up again season for Sarajevo. He was really good under manager Dženan Uščuplić, but equally terrible under manager Meho Kodro. Luckily for him, Kodro didn't last long, so Sarajevo was able to win the title.
Muarem Muarem (Qarabağ, Azerbaijan) - Muarem is viewed as one of the top players for Qarabağ. He starts on the left wing for them, scoring 8 goals in league play.
Mirko Ivanovski (Videoton, Hungary) - Mirko had a disappointing stint with Videoton. Ivanovski has told us that he feels CF is his best position, but his limited playing time came in attacking midfield for Videoton. Only scored 1 goal in eight measly league caps.
Valmir Nafiu (APOEL, Cyprus) - Nafiu was brought to APOEL this past winter by manager Thorsten Fink, a coach that has signed Valmir for three different teams (APOEL, Hamburg and Basel). Nafiu could not cement regular playing time, only netting one goal.
Aco Stojkov (Skenderbeu, Albania) - Stojkov was presented by Skenderbeu as a strong reinforcement, but he failed to deliver. He was in and out of the starting lineup after failing to convince the coach. Soon after the season ended, Skenderbeu parted ways with Stojkov and he returned to Vardar.
Damjan Shishkovski (Gent, Belgium) - Damjan did not make one matchday squad for Gent, serving as the #3 keeper for the club. However, Gent was pleased with his improvement in trainings. The team was the bigger surprise in Belgium and managed to win the title ahead of Anderlecht and Club Brugge.

The following 5 players won league trophies with second division clubs:

Adis Jahovic (Krylia Sovetov, Russia) - Jahovic made the move to Krylia Sovetov in one of the final days of the 2014 summer transfer window. Adis started regularly at CF and led the team with 12 goals. Krylia Sovetov quickly to the top division in Russia.
Aleksandar Todorovski (Zagłębie Lubin, Poland) - Todorovski began the season with Sturm Graz in Austria, but transferred to Zagłębie Lubin after he was released this past winter. Aleksandar was the team's starting right-back and helped them clinch first place in the league.
Ilija Nestorovski (Inter Zaprešić, Croatia) - Nestorovski dominated in Croatia's second division by scoring 24 goals this season. He was the leading scorer, leading the second placed guy by 8 goals. We'll see how Ilija performs in the first division, if he stays with the club.
Aleksandar Stankov (Viborg, Denmark) - Aleksandar was usually fielded on the wings for Viborg. There was a long stretch where he mostly came off the bench, but Stankov finished the season strong. Viborg won the title to return to the Danish top flight after getting relegated last season.
Antonio Stankov (Viborg, Denmark) - Unlike his twin brother, Antonio saw little action for Viborg. He was an unused substitute in the majority of the games after he lost his starting spot at right-back.

The following 7 players won cup trophies:

Arijan Ademi (Dinamo Zagreb, Croatia) - Just like the league triumph, Ademi was rock solid in helping Dinamo Zagreb win the double crown.
Goran Pandev (Galatasaray, Turkey) - Goran scored 7 goals for Galatasaray in cup matches, but his playing time diminished as the club advanced further in the competition. He did not even make the squad in the cup final. Still, he played an important role to get Galatasaray to that point.
Ivan Trichkovski (Al-Nasr, United Arab Emirates) - Before being jettisoned out of the team, Trichkovski scored two goals and collected several assists to lead Al-Nasr to the cup final. He ultimately missed the cup final in late January as he was removed from the roster earlier that month.
Muarem Muarem (Qarabağ, Azerbaijan) - Muarem played regularly and scored one goal, coming in the cup final against Neftçi. His team won that game 3:1.
Valmir Nafiu (APOEL, Cyprus) - Valmir made two starts for APOEL in the Cypriot Cup after transferring there in the winter. However, he did not get a chance beyond the quarter-finals.
Filip Gligorov (Olimpic, Bosnia) - Gligorov was the starting right-back for Olimpic whose cup glory was the first trophy in their brief history.
Dejan Peshevski (Koper, Slovenia) - Peshevski only made one short appearance for Koper. Otherwise, he sat on the bench. Koper struggled in league play, but the cup was a different story as they came out on top.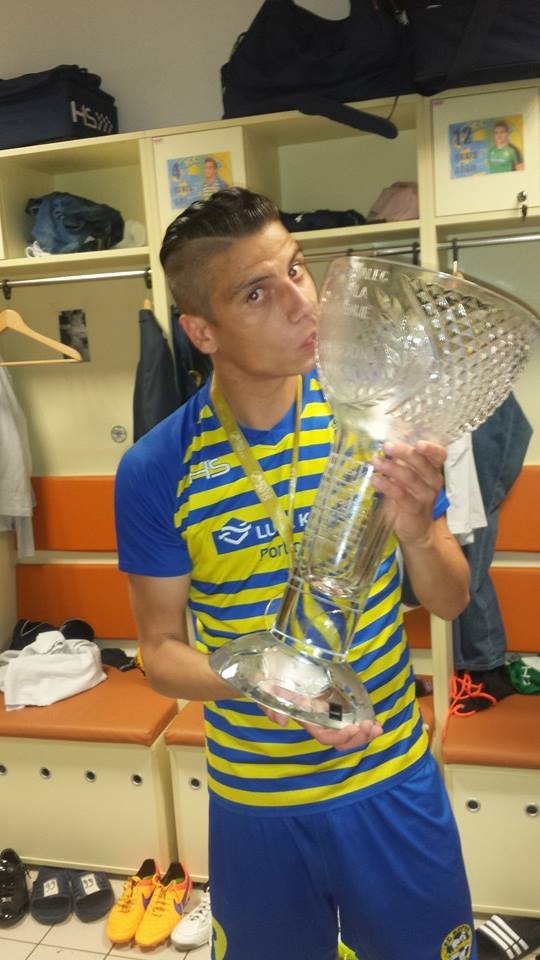 Peshevski kisses the cup trophy
---