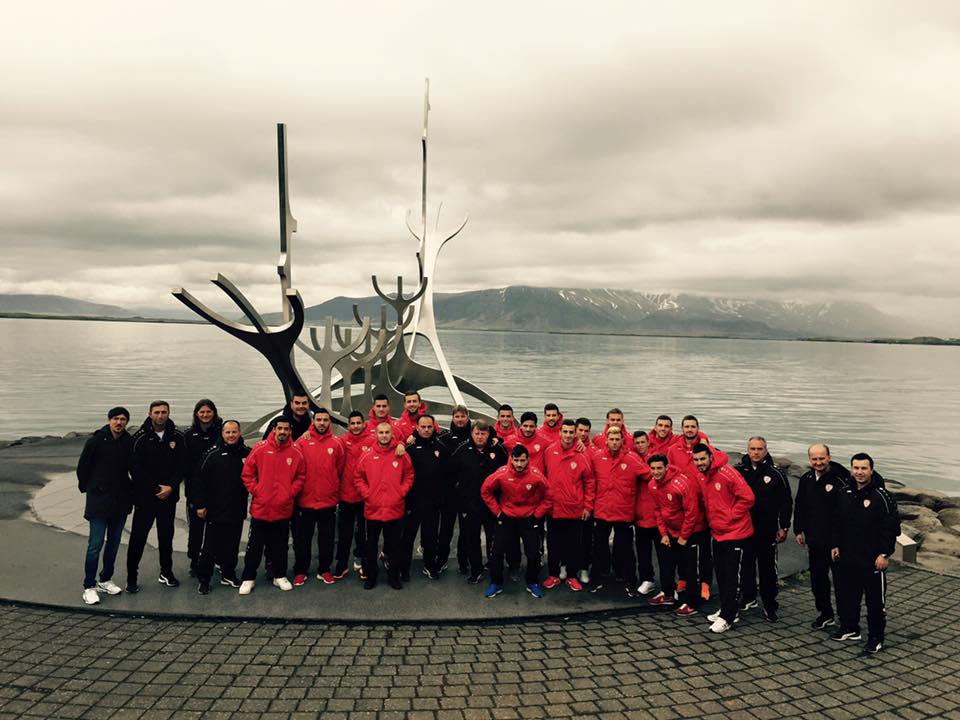 The U21 team in Iceland; photo: FFMLater on Thursday, the U21 national team of Macedonia begins a new qualifying cycle with a tricky road fixture against Iceland.
Manager Blagoja Milevski will have 21 players at his disposal for the opening game of Group 3 in the 2017 European U21 qualifications. It takes place on Thursday versus their counterparts from Iceland. This will the lone game of the group to be played this early, since the other four teams (France, Ukraine, Scotland and Northern Ireland) began their qualifications in September.

These 21 players made the trip to Iceland:

Goalkeepers: Damjan Shishkovski and Igor Aleksovski.

Defenders: Gjoko Zajkov, Darko Velkovski, Angelche Timovski, Besir Demiri, Visar Musliu, Filip Ristovski and Leon Najdovski.

Midfielders: David Babunski, Boban Nikolov, Burhan Mustafov, Kire Markoski, Jasir Asani, Viktor Angelov, Phil Petreski and Nicola Kuleski.

Attackers: Marjan Radeski, Valmir Nafiu, Filip Pivkovski and Dorian Babunski.

The squad is missing some important pieces due to injury. Goalkeeper Dejan Iliev and midfielders Daniel Avramovski, Enis Bardi, Hristijan Denkovski and Taulant Sulejmanov-Seferi are all recovering from injuries, so they are not available. That certainly hurts the depth, but the squad does benefit from the fact that senior national team manager Ljubinko Drulović did not call-up any U21 players. Thus, guys like Darko Velkovski and Marjan Radeski will be at the disposal of the team.

The opponent, Iceland U21, is not well known in the Balkan region, but that country has shown drastic improvement in recent years. Both the senior team and the U21 team have been collecting impressive results. Iceland U21 finished in 2nd place of their group in the 2015 European U21 qualifications, so they will pose a difficult test.

With that being said, who would you deploy for Macedonia U21 based on the available players? Below is the starting lineup that I think will be chosen.
My prediction

The manager will have to decide whether he wants to use Velkovski at center-back or defensive midfield. However, with the familiarity that Velkovski and Zajkov have as former Rabotnichki teammates, it would be a better option to make them the pairing in central defense. On the bench, there would be some offensive options that can provide a spark, if needed, like Dorian Babunski or Jasir Asani.
---