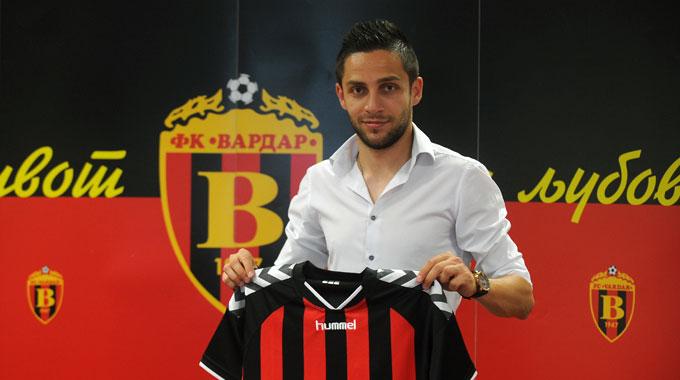 Vladica Brdarovski; photo: VardarThe defending league champion made two more summer signings in defender Vladica Brdarovski and midfielder Boban Nikolov.
Following the addition of Aco Stojkov, Vardar made two more reinforcements on Friday by inking deals with Boban Nikolov and Vladica Brdarovski. Both come to Vardar as free agents. Nikolov's contract recently expired with Viitorul (Romania), while Brdarovski was available after his contract was mutually terminated by Győr (Hungary).

Nikolov, 20, is a versatile player who can play multiple positions. Although mostly fielded in midfield, Nikolov has formerly played at right-back, on the wing and in both attacking and defensive midfield. His position flexibility should help Vardar.
Meanwhile, Brdarovski, 25, is primarily a right-back. This move is more puzzling because Vardar already has a quality right-back in Armenian international Hovhannes Hambardzumyan. We'll see what the club plans to do with Brdarovski, but Hambardzumyan is considered one of the club's top players. Maybe Brdarovski will be asked to play further up in midfield, or possibly at left-back with Goran Popov moving inside to central defense.

These are two solid signings for Vardar because both Nikolov and Brdarovski are the right age. Lately, Vardar has mostly been signing veteran players (guys in their late 20's, early 30's), so focusing on younger alternatives is a good strategy for the club.
Nikolov is a current member of the U21 national team, while Brdarovski formerly played for the youth selections of Macedonia. Nowadays, Vladica is a fringe national team player who has several caps for the senior squad. His last appearance came in June of 2014 during a friendly versus China.
---