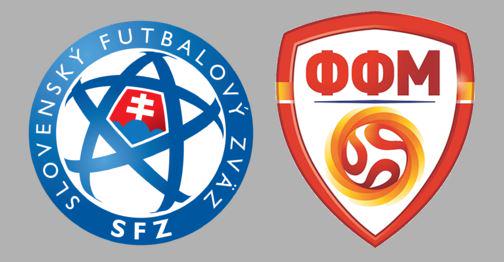 Preview of Slovakia vs. MacedoniaOn Sunday, Ljubinko Drulović will make his managerial debut for Macedonia when the squad takes on Slovakia in Žilina.
In the history of an independent Macedonian national team, no opponent has proven to be a bigger nemesis than Slovakia. In seven prior meetings, Slovakia has outscored Macedonia by 12 goals. To date, that is the worst goal difference of any opponent that Macedonia has faced. Slovakia is undefeated in those seven meetings, winning five and drawing two.

One of their wins came back in November of 2014 when Slovakia cruised to a comfortable 2:0 triumph in Skopje. Slovakia scored two goals in the 1st half and easily held on to that result the rest of the way. Macedonia only threatened through free kicks by Aleksandar Trajkovski, but could not create anything in open play. The attack, and really entire team, was out of sync and completely neutralized.
This was Macedonia's lineup last year vs. Slovakia:

Pachovski; Ristovski, Mojsov, Shikov, Alioski; Ademi, Demiri (74' Babunski); Abdurahimi, Trajkovski, Velkoski (70' Ivanovski); Stojkov (46' Kostovski).

From the 14 players used this past November, five are missing from the current squad. Those five are Vanche Shikov, Muhamed Demiri, David Babunski, Aco Stojkov and Jovan Kostovski. The other nine are among the 22 available players heading into Sunday's game.

Can Macedonia spring a surprise? That will be incredibly difficult as Slovakia is playing with a tremendous amount of confidence. In five games of group play, Slovakia has yet to drop a point. They have amassed the maximum 15 points, including a home win over Spain. Sunday's match has already been sold out, so Macedonia will be facing a hostile atmosphere in the city of Žilina.
The tickets allocated to the Macedonian federation were not used (lack of interest), so they were returned to the Slovak association who then put them up on sale to the general public (quickly sold out). Thus, unless Macedonian immigrants in Slovakia and neighboring countries plan on attending the game, then the people in the stands will be entirely Slovak supporters.

June dates are always tricky for these sorts of fixtures. Many players are tired after long seasons and thinking vacation, but that has to be put on the back burner for a few more days.

One thing working for Macedonia is that a new manager, Ljubinko Drulović, is now in place. The players will have to prove themselves all over again to Drulović and his coaching staff, which is predominantly filled with new names. If playing for Macedonia means something for these players, then motivation should not be an issue. We'll see how that pans out on Sunday.

When it comes to injuries, Macedonia had two withdrawals in defender Vanche Shikov and striker Jovan Kostovski. Both were strong contenders to start, so they are big losses. Drulović only called up Darko Velkovski as a late replacement for the two injured players.
These 22 players are available for Sunday's game:

Goalkeepers: Tome Pachovski, Filip Gachevski, Stole Dimitrievski.

Defenders: Stefan Ristovski, Aleksandar Todorovski, Daniel Mojsov, Vladimir Dimitrovski, Kire Ristevski, Darko Velkovski, Leonard Zhuta, Ezgjan Alioski.

Midfielders: Arijan Ademi, Aleksandar Trajkovski, Agim Ibraimi, Muarem Muarem, Ferhan Hasani, Dushko Trajchevski, Besart Abdurahimi, Ostoja Stjepanovikj, Stefan Spirovski.

Attackers: Mirko Ivanovski, Krste Velkoski.

Drulovic prefers to play in a 4-2-3-1 formation, so he will look to position players for success in that system. He already announced earlier this week that he knows most of his starters for Sunday, with the exception of a couple of spots. With the final training taking place on Saturday, Drulović should have his starting 11 set by the end of the day.

Below is my prediction on the starting lineup:
The play of the defense will go a long way in determining whether Macedonia can spring a surprise. Ristovski and Mojsov must redeem themselves from the first Slovakia meeting when their mistakes led to both goals for the visitors. Then, on the left side, you have two new names in Dimitrovski and Zhuta. Will they be composed under pressure? That remains to be seen, but we will find out on Sunday what Dimitrovski and Zhuta can bring to the table, if both do indeed start.

Danish referee Kenn Hansen, someone who is familiar to Ferhan Hasani, was appointed by UEFA to officiate the match. Slovakia vs. Macedonia gets underway at 20:45 CET at the "Štadión pod Dubňom."
What starting lineup would you field? Let us know below and give us your score prediction.
---