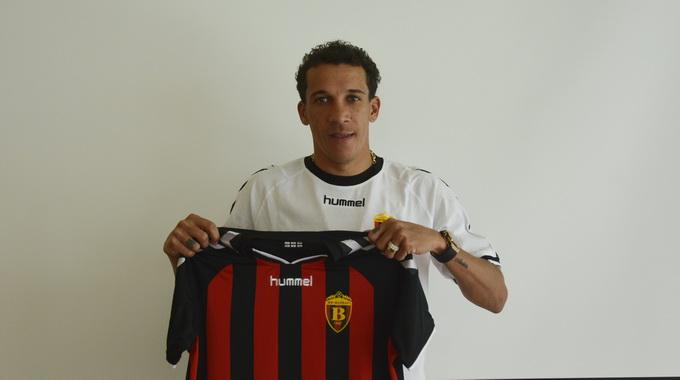 Juan Felipe; photo: FK VardarThe sixth reinforcement for Vardar comes from the Bulgarian league in the name of Juan Felipe, a 27-year-old Brazilian trequartista.
Born on December 5, 1987 in São Vicente, Juan Felipe Alves Ribeiro played for CSKA Sofia last season where he compiled 3 goals and 3 assists in 28 league appearances. After only one season Bulgaria, Juan Felipe has decided to join Vardar, despite also having an offer from Beroe.
Unlike most Brazilian footballers, Juan Felipe, 27, came to Europe at a later age as he only signed for CSKA Sofia last summer. Before that, he played for Oriente Petrolero in Bolivia and Brazilian clubs São Carlos, Red Bull Brasil and Santo André. He started his career in the youth academy of Santos, one of the top teams in his birth country.
The Brazilian trequartista signed a one year contract, becoming the sixth reinforcement for Vardar as they are building a team for the Champions League qualifications. Thus far, they have signed Aco Stojkov (ST), Boban Nikolov (CM), Vladica Brdarovski (RB), Filip Gachevski (GK) and Darko Velkovski (CB/CM).
@MacedonianFooty Skilful player. CSKA fans liked him a lot. Decent signing for Vardar.
Speaking to Vardar's web site, Juan Felipe said: "I spent 8 years in the academy of Santos and until last summer I was playing in Brazil. I thought it was time to move to Europe because the best football is played there. So, I went to CSKA Sofia. Everything was great at the beginning, but then things went downhill. I was searching for a new club and Vardar offered me a phenomenal contract that I accepted. Their ambitions are to go far in the Champions League qualifications and to win every trophy in Macedonia. That's another reason why I came here. Now, I have to give my best in these preparations in order to leave a good impression and book myself a place in the first team."
---