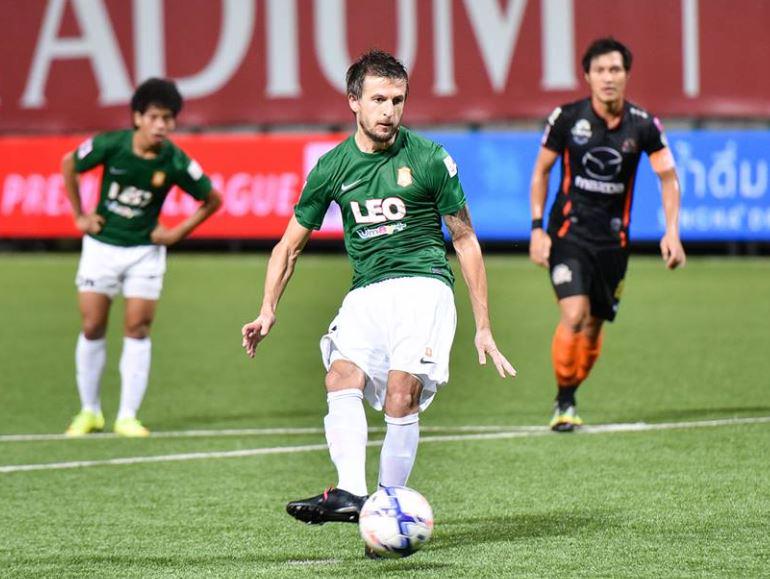 Tasevski converts his penalty; photo: Bangkok GlassIn the leagues that are still active, Darko Tasevski and Dushan Savic made solid contributions on Saturday to lead their teams to victories.
In Thailand, the 2015 season resumed after a one month break due to World Cup qualifying in the Asia region. Bangkok Glass, the team of Darko Tasevski, was in action on Saturday versus Nakhon Ratchasima. Bangkok Glass would win 3:1 with Tasevski amassing a goal and an assist.

The assist came first as Tasevski played a good ball to one of his teammates who then scored a spectacular goal on a chip from the edge of the area. Meanwhile, Darko's goal came on a converted penalty kick.
Darko's assist (at 2:41) and goal (at 6:49):
Meanwhile, over in Kazakhstan, the league also resumed after a break due to international matches. Despite being a UEFA member, the Kazakh season is structured more like the Asian countries.

On Saturday, in a matchup between the two worst teams in the league, Zhetysu and Dushan Savic made easy work of Shakhter. Zhetysu won 3:0 with Savic notching two goals and one assist.
Dushan's assist (at 11:30) and goals (at 14:52 and 1:46:26):
Over the next couple of weeks, there will be no "Macedonian internationals performances" articles. Simply put, there are not enough leagues active. Therefore, if something warrants consideration, you will be notified in articles such as this one.
---