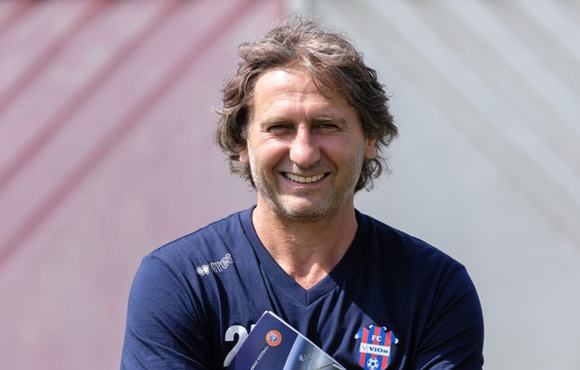 Milko Gjurovski; photo: profutbal.skMilko Gjurovski, the brother of Macedonia's former manager Boshko, gave his thoughts on some of the problems facing the national team.
Milko Gjurovski was recently named manager of Slovak club ViOn Zlaté Moravce. To learn more about him, "Dennik Sport" did an interview feature on Gjurovski. Several topics were addressed, including the problems facing football in Macedonia.

Since Macedonia and Slovakia are in the same group for the EURO 2016 qualifications, and just played a match on June 14, "Dennik Sport" asked Milko about that game and what went wrong for his brother Boshko, who was dismissed by the federation earlier this year after the loss to Belarus.
Speaking about the June 14 clash, Milko noted, "I only watched highlights from Sunday's match since I was traveling to Slovakia at that time. However, in the first meeting between the teams last year, I was in Skopje as Slovakia won 2:0. You guys are well on your way to France (the site of EURO 2016). Slovakia has a good generation of players, my favorite being Marek Hamsík. Wow, what a footballer."
The entire feature on Gjurovski can be accessed on the link in the tweet below:
Then, later in the interview, Milko was asked about Macedonia's team, "I have lived in Slovenia for many years now, so I don't have a perfect view of the Macedonian players. What I can say is that the team is undergoing a generational change. Macedonia is lacking the qualities of someone like Goran Pandev. He was a former teammate of Hamsík at Napoli. Another problem with the Macedonian national team is that everyone wants to push his player there. In recent years, sons and friends of some officials were given opportunities. They miss the natural quality."

Milko finished by saying, "During his work there as the manager, my brother tried out about 65 players, a huge number. In my opinion, that is the biggest problem for Macedonian football."

What are your thoughts on Milko's comments, primarily in the two previous paragraphs?
---