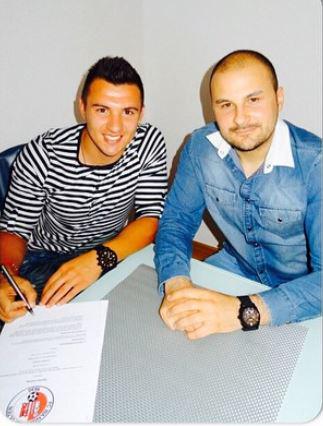 Gjorgiev signing his contract: photo: Dragan GjorgievAttacker Dragan Gjorgiev, once signed by Mainz back in 2010, has now joined Swiss 4th division club Wangen.
Dragan Gjorgiev, 24, was once one of the top young talents in Macedonian football. In the summer of 2010, at the age of 19, he made a sensational transfer to the German Bundesliga with Mainz. That came after Nikolche Noveski recommended the player to the club.

Gjorgiev, however, never made a league appearance for Mainz as he was deemed not quite ready for the Bundesliga. Instead, for the 2010-11 season, he was loaned to second division club Paderborn. Dragan also saw little to no action with Paderborn, leading to his return to the Macedonian league soon thereafter.
Vardar would sign Gjorgiev in 2012, but Dragan never really panned out for the club. He never seemed comfortable and dealt with several injury setbacks. After that adventure with Vardar, Dragan returned to Turnovo where he spent this past season. Turnovo was also the club where Gjorgiev made his name as a teenager. During his career, Dragan has performed very well at Turnovo, but he was underwhelming at his other stops.

Now, his journey will take him to Switzerland with 4th division club Wangen. Dragan's wife and her family live in Switzerland, so Gjorgiev was intent on signing in that country. Since there was no interest from teams in the top three divisions, he jumped at the opportunity to join Wangen. His plan all along was to sign in Switzerland, but this is a huge step down for Gjorgiev. From Mainz in the Bundesliga five years ago to now Wangen in the Swiss 4th division.
---