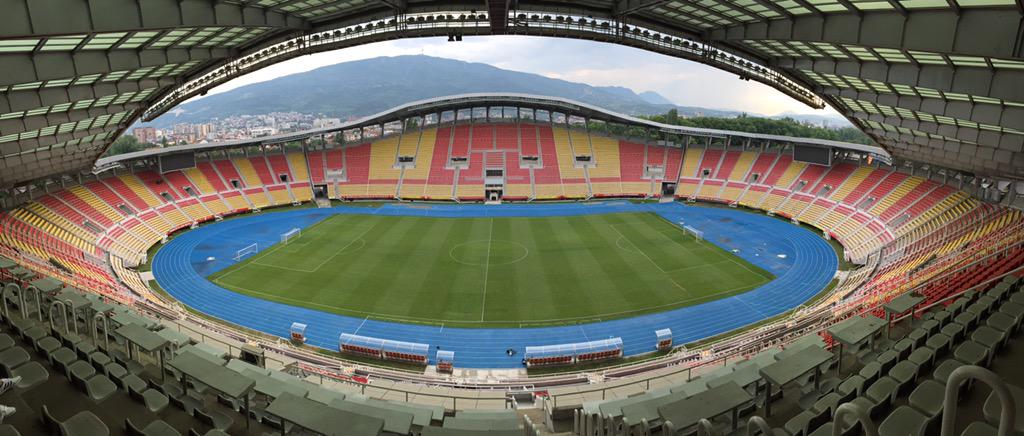 Panorama; photo: Craig Foy TwitterThe UEFA Executive Committee has selected the Macedonian capital to host the UEFA Super Cup in 2017.
The "National Arena Philip II of Macedonia" will host a major event in August of 2017. The UEFA Executive Committee, during a meeting over the past two days, has appointed the main stadium in Skopje, and Macedonia, to host the UEFA Super Cup in 2017. That high profile event is a matchup between the winners of the Champions League and Europa League. So, for the 2017 calendar year, the winners of those prestigious competitions will meet in Macedonia to decide the winner of the UEFA Super Cup.

This is a big victory for Macedonian football. By being given the responsibility to host such a spectacle, the "National Arena Philip II of Macedonia" will surely undergo improvements over the coming two years. Most of the major work has been done already, but the surrounding areas and the pitch itself could use improvements. Maintaining a quality pitch has been a big problem, so that has to be addressed. Installing a proper drainage system while annually replacing the grass should be main priorities for the venue.
Returning to the UEFA Super Cup, between 1998 and 2012, the event was held in Monaco. However, since 2013 and onwards, UEFA decided to change things up and award the Super Cup to countries throughout Europe. That also includes so called "little countries" that have not achieved much in football. The goal by UEFA is to grow the game and reward countries for investing in their infrastructure.
This year's Super Cup between Barcelona (Champions League winner) and Sevilla (Europa League winner) will be held in Tbilisi, Georgia. The 2016 showcase will be in Trondheim, Norway, while the 2017 edition, as determined today, will be held in Skopje, Macedonia.
---