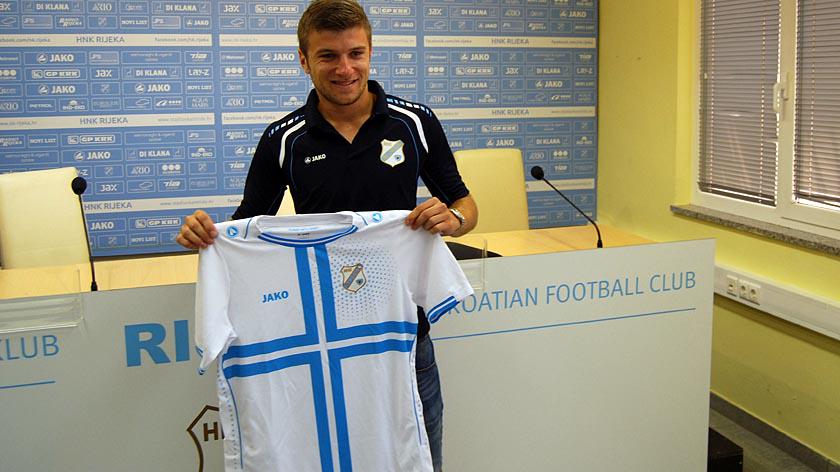 Ristovski at his presser; photo: RijekaCroatian club Rijeka has won the race for Macedonian international Stefan Ristovski, announcing his arrival on Monday.
Stefan Ristovski, a free agent this summer after the bankruptcy of Parma (the club that owned his rights), has signed a multi-year contract with Rijeka. The deal was announced on the official twitter profile of the club since Rijeka's website is currently under construction.
Rijeka finished in 2nd place of the Croatian league last season, only behind Dinamo Zagreb. They are a well run club that has experienced plenty of success in recent years. Rijeka reached the group stages of the Europa League during the 2014-15 campaign. This season, they begin in the second qualifying round of the same competition. Interestingly, their opponent will be the winner of the Shkendija/Aberdeen matchup.
In the photo below, Ristovski is photographed shaking the hand of Rijeka sporting director Ivan Mance:
STEFAN #RISTOVSKI, 23-godišnji makedonski reprezentativac, novi je igrač Rijeke! Dobro došao pod stijene! #samoRijeka pic.twitter.com/mLrAjX0v3r
Ristovski received interest from several Serie B sides in Italy, including Latina (where he finished last season), but nobody could match the offer of Rijeka. Without needing to pay a transfer fee, Rijeka made an aggressive bid to lock up the free agent right-back. They had a need at that position.
UPDATE: Stefan Ristovski will actually play as a loaned player to Rijeka. Ristovski was originally bought by Spezia (Serie B club in Italy), but he was then sent on loan to Rijeka. Spezia and Rijeka are partners that have done many player exchanges. There are several Rijeka players currently on loan at Spezia, and now Ristovski will be heading the other way. So, Spezia will own Ristovski's rights, but he will be playing for Rijeka this season. Confusing situation, but this was explained on Spezia's official website. Furthermore, the Rijeka sporting director said the same thing at today's press conference. He noted that Ristovski signed as a free agent with Spezia, and he was then loaned to Rijeka. He called Spezia "our Italian partners" as the club does have a Croatian manager and many Rijeka players on loan, as previously mentioned.
---