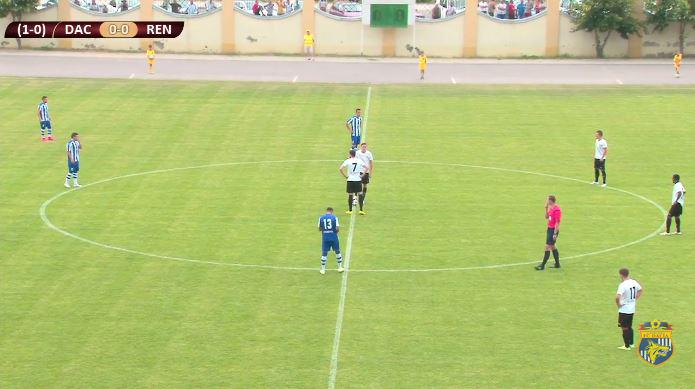 Screenshot at kick-off; photo: DaciaDacia, the team from Moldova, thoroughly outplayed Renova to book a place in the next round of the Europa League qualifications.
Renova continues to struggle mightily in European competitions. Besides once beating a minnow from San Marino back in 2012, Renova has never advanced past another opponent, despite being a frequent participant in the Europa League and even Champions League qualifications (five out of the past seven years in one of those two competitions).

The first leg between Renova and Dacia was pretty even, but Dacia did grab an early goal following a set piece. However, in the return leg in Moldova, Dacia looked significantly better, utilizing its home advantage, unlike Renova.

Dacia won 4:1 and could have scored several more goals. Their first two goals, one in the 9th minute and the other in the 55th minute, came on long range efforts. Both were struck well, but the Renova keeper has got to do better. Any goalkeeper who wants to be good can not allow such goals, both from around 25-30 yards, to get past him.

In between those two goals, Renova did get on the board in the 32nd minute. The goal came out of nowhere. A defender made a long pass which resulted in a jumping duel. After that jumping duel, the ball fell perfectly for Izair Emini who sent his effort to the back of the net. Renova would head into halftime tied at 1:1, but Dacia was dominant after the break.

To make matters worse, the third goal by Dacia was scored by Vasili Pavlov. He spent the second half of last season with Teteks, the last placed team in Macedonia. Dacia's last goal came in the 88th minute via striker Yevhen Lozovyi.

In summary, two games and two losses for Renova in this matchup. That means no coefficient points for the Macedonian league.
Dacia won 5:1 on aggregate to easily reach the next round of the Europa League qualifications.
---