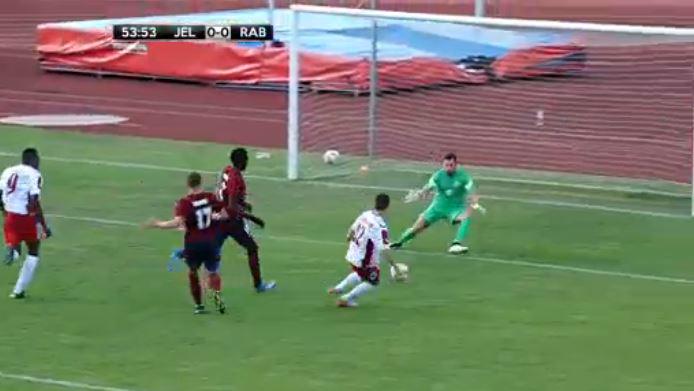 Marjan Altiparmakovski's miss proved costlyRabotnichki controlled things for most of the game against Jelgava, but they were left empty handed after the hosts scored a late game winner.
Brutal. Excruciating. Unjust. Any of those words can be used to describe today's result between Jelgava and Rabotnichki. The visitors completely dominated in the 2nd half, but Jelgava proved to be a tough nut to crack.

Speaking to some of our friends on twitter, based on Jelgava's prior matchup vs. Litex (Bulgaria), they told us that the Latvian club was very organized and disciplined on defense. That became apparent early on in Thursday's match involving Rabotnichki and Jelgava.

Jelgava was indeed very difficult to break down and played very defensive for a home fixture, especially in the 2nd half. The opening 45 minutes were pretty even. Both teams battled and played hard, but few chances could be created. The best opportunity came in the 41st minute following a corner kick, when Jelgava did manage to hit the outside of the left goal post on a close range header.

The 2nd half, however, was completely dominated by Rabotnichki. They took the initiative and most of the action was on Jelgava's half of the pitch. Rabotnichki, though, was lacking individual brilliance. Guys like Chuma Anene and the midfielders tried to dribble past opponents, but Jelgava's defense could not be penetrated.

One lapse by Jelgava occurred in the 54th minute when Marjan Altiparmakovski missed a huge chance. After good build-up play that consisted of quality passing, Altiparmakovski was through on goal, but he sent his shot right at the keeper. That had to be converted against Jelgava, forcing them to open up, but instead Jelgava's defense clamped down and became even tougher.

Rabotnicki controlled possession, but they were not doing much with it. They just had no answers to break down Jelgava. Rabotnichki even brought on Suad Sahiti for Bazhe Ilijoski to inject more speed, but that also could not trouble the opposition.

Jelgava punished Rabotnichki in the 87th minute when they scored the winning goal. Following a long throw-in inside the penalty area, the ball would find Glebs Kļuškins who calmly sent his shot to the back of the net. There was a lot of traffic in front of goalkeeper Daniel Bozhinovski, so the shot easily led to a goal, despite not being hit with much velocity.

It's a harsh and crushing defeat because Jelgava can now play even more defensive in the return leg. Unless Rabotnichki can figure out how to break down Jelgava's defense, more frustration will likely be on the horizon next Thursday.
---