Group G teamsLuck was not on the cards for Macedonia as they received a very difficult group for the 2018 World Cup qualifications.
Earlier this week, manager Ljubinko Drulovic was hoping for luck in avoiding the big teams. Well, so much for that. At Saturday's draw for the 2018 World Cup qualifications, Macedonia was drawn to face Spain, Italy, Albania, Israel and Liechtenstein.

Macedonia was placed in Group G, barely avoiding the 5-team groups in the final two groups. Israel is always a tough opponent, especially on the road, and then the games against Albania will be very interesting to say the least.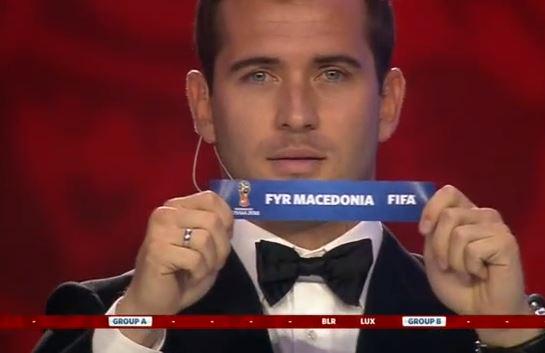 Moment Macedonia's name was drawn
Numerous players on the team are of Albanian origin, so will they play with the same intensity? That's a fair question. If you look at the social media profiles of many of those players, it's blatantly visible that they also support Albania. So, how will they approach those two games?

Furthermore, those two games will see a lot of Albanians within Macedonia supporting Albania. That's not a good sight, but it's a reality after today's draw. The fan groups of Shkendija and Shkupi will certainly root for Albania in Skopje, and then make the trip to Albania to do the same.
@Ballistet1992 @MacedonianFooty I think we shouldn't exaggerate the ALB-MK rivalry. Loyalty dilemma is very interesting here though.
Then, moving to pot 2, Macedonia was actually supposed to face Bosnia, but that all changed due to UEFA demands at the World Cup draw. Italy had to be in a 6-team group due to television rights. So, although Italy was drawn last from pot 2 , they were placed in Group G because that was the last 6-team group. Just Macedonia's luck, it seems.

Finally, Spain was drawn in Group G from pot 1. Spain was also Macedonia's opponent in the EURO 2016 qualifications. Spain is Spain. They are a dominant side that shows no signs of slowing down.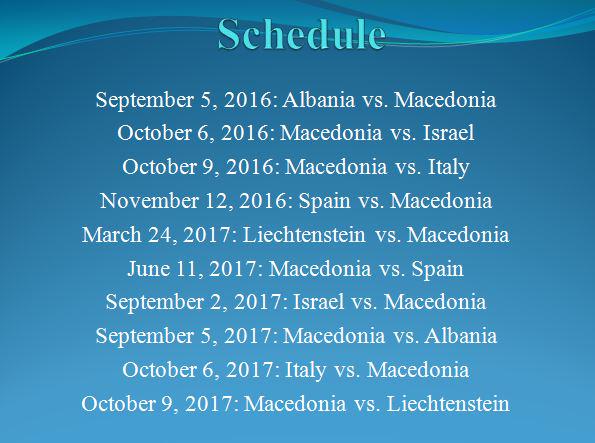 Macedonia's schedule
Despite the tough draw, which is not popular with fans, the players will be happy. Most players want to play the big sides such as Italy and Spain, so motivation should be no problem. With Italy being in Macedonia's group, that also increases the odds of Goran Pandev returning to the national team. He has always wanted to play Italy.
Fans of the Macedonian national team will see some attractive games, no question. Playing against Italy and Spain garners world attention. So, in closing, although Macedonia's odds of qualifying are slim to none, the players and fans will be part of some exciting games in the coming years.
---