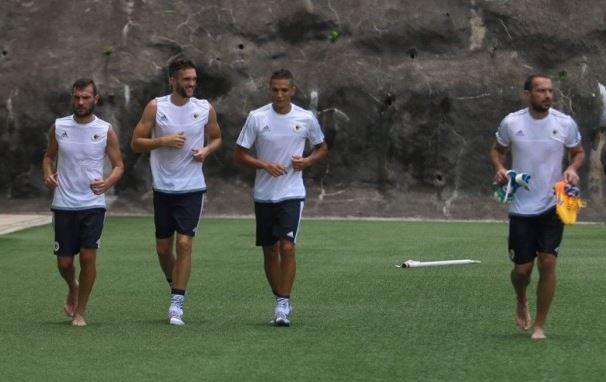 Naumovski at a Pegasus training; photo: on.ccGoalkeeper Kristijan "Kiko" Naumovski has officially signed with Pegasus, a top division club from Hong Kong.
Another odd transfer this summer. Kristijan Naumovski, a backup keeper on the national team, has moved to Hong Kong. He agreed to a deal with Pegasus. Yesterday, Naumovski posted a message on his Facebook profile, saying "new life" along with several photos of Honk Kong. No team was listed in his post, however. After then contacting some Hong Kong journalists, we were informed that Naumovski has been signed by Pegasus.

Besides Naumovski, we were told that Pegasus also signed three more players from the Balkans. They added Ivan Milicevic (Croatia), Dusan Martinovic (Serbia) and Nejc Mevlja (Slovenia). There is a foreign quota in Hong Kong as four foreigners is the maximum number that can be on the pitch. So, for the upcoming 2015-16 season, Pegasus decided to focus on Balkan players for their foreign slots.

Naumovski recently got married, so this move to Hong Kong will see him and his wife relocate to that country. Kristijan joined Pegasus on a free transfer since he was released by Dinamo București earlier in the summer. Besides Dinamo, Naumovski, who turns 27 years old next month, has also played for Rabotnichki and Levski in his career.
---