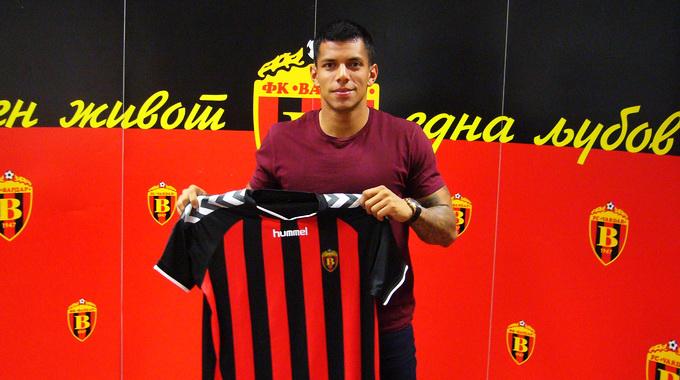 Romero holding the jersey; photo: VardarVardar decided to sign a striker after all by agreeing to terms with Cesar Romero on a 1-year contract.
Many attackers have been linked with Vardar this summer, but the club struck out on numerous of their top targets. So, with the season closely approaching, Vardar turned to a familiar connection to address the team's attack.

Rouben Vesmadian, the CEO of "Bucket Group" agency, contacted Vardar to recommend Cesar Romero, last season's leading scorer in Armenia. Vesmadian also represents Hovhannes Hambardzumyan and Artak Dashyan, two of Vardar's best players, so his recommendation was taken seriously. After Vardar did their due diligence by watching film of the player, they came to the conclusion to go after Romero.

On Saturday, the official Facebook page of "Bucket Group" agency wrote the following, "Cesar Romero of Bucket Group signs for FK Vardar on a 1 + 1 deal. Congratulations & Good Luck."
Romero was signed for the coming season with the option to extend the cooperation for an additional year as well. Interestingly, Romero actually turns 26 years old today as his birthday is on August 2.

As mentioned earlier in this article, Cesar was the leading scorer in the Armenian league last season. He played for Pyunik who won the league title. Romero also scored one goal in a Champions League qualifier last month before he decided to continue his career elsewhere.

We contacted our Twitter friends at Haysoccer.com, a leading source on Armenian football, to get their thoughts on Romero. Below is what they said:
@MacedonianFooty Romero is very active, knows how to keep the ball but most important feature his shots, he finds target everywhere
Romero is of Mexican descent, but he was born in the U.S. state of California. We'll see how he adapts to the Macedonian league. On the UEFA rankings, the league in Armenia is rated lower.
Cesar does not possess ideal size for a CF, so we'll see where Vardar manager Goce Sedloski plans to deploy Romero. The 2015-16 season gets underway on August 9 when Vardar hosts Shkupi.
---