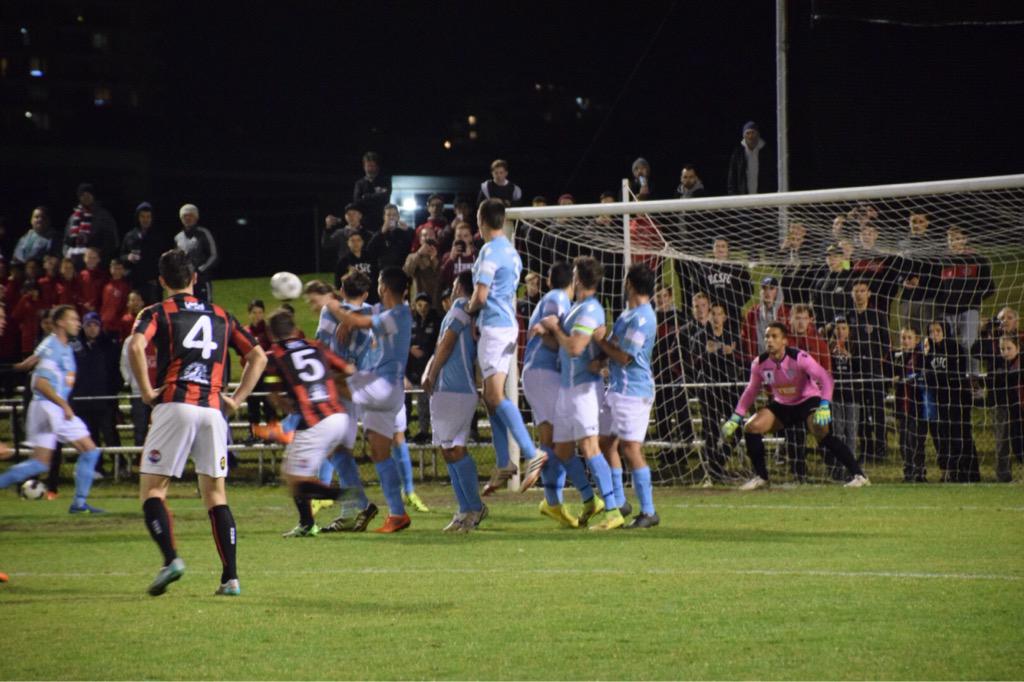 Rockdale taking a free kick; photo: Perth SCGreat achievement for the Macedonian diaspora club Rockdale City Suns as they earned a spot in the Round of 16 of the FFA Cup in Australia.
The Macedonian community in Australia, especially those living in Sydney, are filled with great emotion, pride and joy. Earlier today, local side Rockdale City Suns eliminated Perth SC and qualified for the Round of 16 in the 2015 edition of the Australian Cup (also known as FFA Cup).
Formerly known as Ilinden, Rockdale had always been in the shadows of Preston Lions and Altona Magic, but they have achieved a great feat with today's result. Rockdale did the impossible in the club's first appearance at the Australian Cup.
The line-ups (click to enlarge)
Rockdale started from the 4th Round in the preliminaries. That means they had a long journey just to get to the Round of 32. Here are all of their results:
4th Round:
Rockdale City Suns - Rydalmere Lions 2:1
5th Round:
Arncliffe Aurora - Rockdale City Suns 0:0 (2:4 p.s.o.)
6th Round:
Sydney University - Rockdale City Suns 0:2
7th Round:
Rockdale City Suns - Sutherland Sharks 3:0
Round of 32:
Rockdale City Suns - Perth 3:1
The goals (from 1:30):
The Suns will now wait for the Round of 16 draw where they may end up facing some of the best Australian sides like the likes of A-League teams Adelaide United, Sydney, Melbourne City or even Daniel Georgievski's Melbourne Victory. The games on the next round will be played on August 25/26 or September 1/2, depending on the draw's result.
Other Australian clubs with a Macedonian background also featured in the Australian Cup, but most of them failed to reach a respectable round. The only exception being Broadmeadow Magic who managed to qualify to the Round of 32 where they were eliminated by Heidelberg United by losing 3:1.
We send our congratulations to Rockdale City Suns for their big achievement and wish them more success in the Australian Cup. They made all of us proud, not only the Australian-Macedonian community, but all the Macedonian football fans around the globe.
---