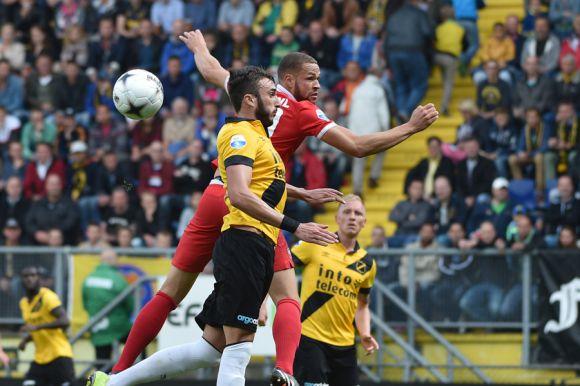 Damchevski during a game last seasonDutch club NAC Breda and central defender Aleksandar Damchevski agreed to mutually terminate his contract on Saturday.
Aleksandar Damchevski, 22, becomes a free agent after Saturday's news. NAC Breda now competes in the second division, but Damchevski was still not in the coach's plans. The new season just began this weekend, and NAC Breda lost its first game 4:1.

Damchevski initially moved to the Netherlands last July. He signed a 3-year contract at that time, but he will only last one year with NAC Breda. Manager Nebojša Gudelj brought him to the club, but Gudelj was dismissed after a bad start to the 2014-15 season.

On the club's official website, current head coach Robert Maaskant said the following, "Aleksandar has a fantastic personality. He came to NAC at a young age to grow and develop before we would sell him later on. However, that strategy has unfortunately not worked out very well. Still, Damchevski deserves to get his career back on track. We wish him every success."
This release is the best decision for both parties. Damchevski received a lot of criticism from fans last season, and that relationship was beyond repair. Fans would often mock him and make him the scapegoat for the club's eventual relegation. Aleksandar now needs to focus on getting a clean slate and finding a team where he will play regularly.
Damchevski was originally born in France, but he has a Macedonian connection through his father. He was recruited to represent Macedonia by Boban Babunski. He first played for the U21 national team before Boshko Gjurovski then gave him several appearances for the senior squad as well.

Uros Matic, his teammate over the past year, remains under contract with NAC Breda. Macedonia continues to wait for approval from FIFA regarding his national team status. It doesn't look like Matic will be cleared until next year, at the earliest.
---