Ljubinko Drulović and Igor Angelovski; photo: sportmedia.mkWith the EURO 2016 qualifiers set to resume early next month, it's time to take a look at what the Macedonian depth chart should look like.
Later this month, manager Ljubinko Drulović will unveil his squad for the two EURO 2016 qualifiers against Luxembourg (on the road) and Spain (at home). In particular, the second qualifier should be a spectacle since Macedonia will face world powerhouse Spain on its independence day (September 8).

Macedonia's odds of finishing in the top-3 of Group C are over. That ain't happening with Slovakia, Spain and Ukraine locked in those three spots. The aim now is to finish in 4th place, improve the national team's coefficient and move up in the FIFA World Rankings. Concerning the last point, we saw how important the rankings are when the draw for the 2018 World Cup qualifications took place last month. By being in pot 5, it's near impossible to achieve the fan's ultimate dream which is to see Macedonia qualify for a major tournament, whether it's the EURO championships or the World Cup.
Macedonia's position on the current FIFA World Rankings
With that being said, let's take a look at the depth chart at each position. Drulović prefers to deploy a 4-2-3-1 formation, so we will use the positions in that look as the basis for our depth chart. Furthermore, most managers nowadays call-up 23 players. That includes two players at every position with the exception of goalkeeper where coaches call up three guys.

Goalkeeper:
There is no dilemma when it comes to the starter. Tome Pachovski is fully entrenched as the #1 keeper for Macedonia. He is undoubtedly the best option, considering the dearth in quality options. Macedonia is recruiting David Mitov Nilsson of Sweden (Macedonian connection through his mother), but that FIFA clearance is not coming by next month. Nilsson is someone who Macedonia would like to have for the start of the 2018 World Cup qualifications, if everything is cleared by FIFA. Pachovski recently turned 33 years old, so getting a quality replacement is paramount.

Returning to now, which two goalkeepers should be behind Pachovski? In the last game, they were Filip Gachevski and Stole Dimitrievski. Gachevski is currently Pachovski's backup at Vardar, meaning he no longer plays regularly. As for Dimitrievski, he remains the #3 keeper of Granada along with the starter for Granada B. Given those circumstances, Gachevski is unlikely to be summoned, while Dimitrievski is a possibility. As to who will replace Gachevski, you have the usual suspects like Martin Bogatinov, Darko Tofiloski and Kristijan Naumovski along with someone new like Daniel Bozhinovski of Rabotnichki and Marko Jovanovski of Shkendija.
Some of Bozhinovski's saves against Trabzonspor:
Naumovski is a long shot because he just moved to Hong Kong. Bogatinov signed with Ethnikos Achnas this summer, but the season has still not started in Cyprus. That happens later this month. One thing about Drulović is that he likes to pick players who are in-season. There are exceptions of course, but usually he tends to choose guys that are in playing rhythm. Tofiloski debuted for his new team this past weekend, but before that he was without a club for several months. Bozhinovski does have one advantage in that his manager at Rabotnichki, Igor Angelovski, is an assistant coach on the national team. The likely duo behind Pachovski will probably be Bozhinovski and Dimitrievski.

GK
Tome Pachovski
Daniel Bozhinovski
Stole Dimitrievski

Right-Back:
Aleksandar Todorovski surprisingly started the Slovakia qualifier in June, getting the nod over Stefan Ristovski. Todorovski, though, really struggled as he is a very limited player. He is overly physical and lacks quickness/change of direction, meaning quick and speedy wingers give him a lot of problems. Furthermore, he offers little to nothing going forward. On the other hand, in our talks with Rijeka supporters, they have been pleased with Stefan Ristovski's play. He has assumed the starting role after initially being a back-up to Ivan Tomečak.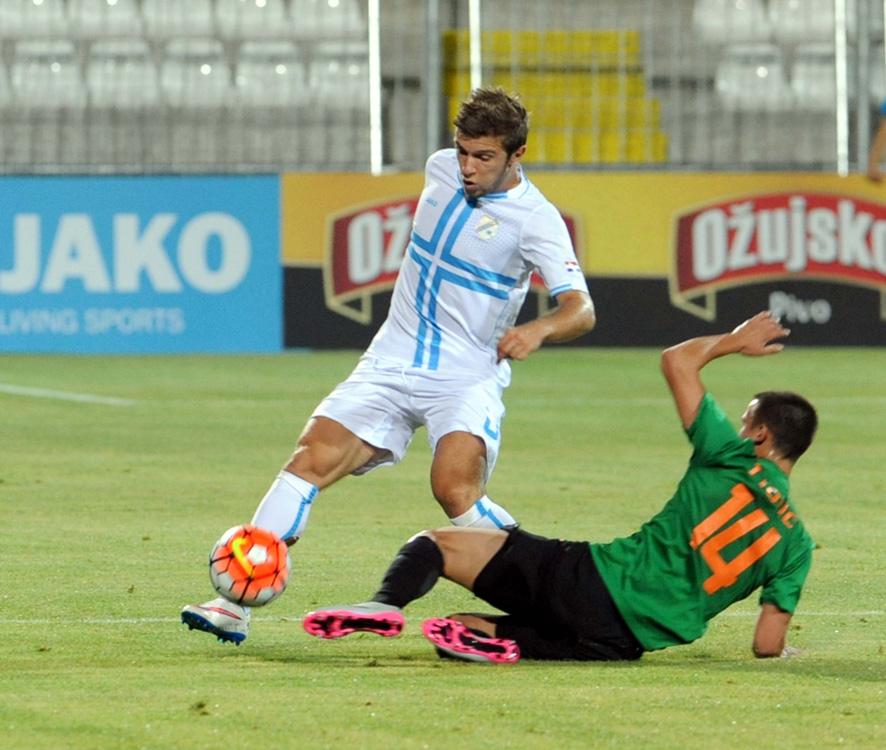 Ristovski playing for Rijeka
Based on age and talent, the two right-backs summoned should be Ristovski and Daniel Georgievski. The latter plays left-back for his club team Melbourne Victory, but he is a natural right-back. Most wing-backs can play on the right or left side without a problem. However, Georgievski plays in Australia which is a long journey to Macedonia. Plus, the season there still hasn't started, posing another problem. So, Todorovski and Ristovski are likely to be the duo again, although I would still choose Georgievski (27 years old) over Todorovski (31 years old). Another potential option is Goran Siljanovski of Rabotnichki.

RB
Stefan Ristovski
Daniel Georgievski

Right Center-Back:
Vanche Shikov had to miss the Slovakia qualifier due to an injury to his chest. He is healthy now and playing on a regular basis for Austria Wien, benefiting from an injury to a teammate. The fans of Austria Wien are not overly high on Shikov, but he has been a solid performer for the national team. If healthy, Shikov will likely be fielded at right center-back in Drulović's formation. Behind him would probably be Daniel Mojsov, who filled in for Shikov at right CB in the Slovakia match. He moved to the Turkish second division this summer, and that league starts this weekend. Mojsov is disliked by many Macedonian fans, but he benefits from the age (guys like Milan Ilievski and Boban Grncharov are both 33) and lack of quality options at the position.
Right CB
Vanche Shikov
Daniel Mojsov

Left Center-Back:
Vladimir Dimitrovski has performed solidly for Kerkyra in the Greek top division, but he currently finds himself in a tough situation. Due to silly mistakes by ownership, Kerkyra was relegated to the second division last week. The club is appealing the decision, but that leaves many of their players in a tough spot. Should they wait to see if Kerkyra wins its appeal, or ask to move to another team ASAP. The season starts later this month, so there is not much time.

The other deserving player at left CB is Kire Ristevski. He has excelled for Rabotnichki in the Europa League qualifiers this summer. In particular, he looked very solid in the two games against Trabzonspor when he did a nice job defending a quality striker like Óscar Cardozo.
Left CB
Vladimir Dimitrovski
Kire Ristevski

Left-Back:

Leonard Zuta started at left-back during his debut for Macedonia this past June. Over the past month, Zuta has mainly played left CB for Häcken, but he can still play LB as well. As Zuta once told us, he views his versatility as a positive and he thinks that playing is more important than where he is fielded. Drulović will likely debate between Ezgjan Alioski and Mite Cikarski for the other left-back on the roster. Both Alioski and Cikarski offer contrast since they are smaller and quicker than Zuta, himself a bigger LB when deployed there. Cikarski, too, has put himself in the national team picture with his good performances in the Europa League qualifications for Rabotnichki, but I give the slight edge to Alioski.
LB
Leonard Zuta
Ezgjan Alioski

Defensive midfielders:
Besides Arijan Ademi, the other players who have been tested at defensive midfield over the past year have failed miserably. Ademi, who has missed some games due to being injury prone, is irreplaceable on this squad given the terrible quality at the position. Therefore, it's time to try new players behind him. I looked abroad first, but nobody stood out. A guy like Ostoja Stjepanovikj is still without a team. Nobody knows when he plans to sign since he recently became a father for the first time. Given his club status and the fact that Ostoja is just coming back from a devastating ACL tear, he can't help the national team at this time. The same is true for Muhamed Demiri.

So, I looked domestically. Only three clubs, Vardar, Shkendija and Rabotnichki, can realistically be considered for sending players to the senior national team right now. Those three clubs are just so far ahead of the remaining teams in the top division. They are the three serious clubs in Macedonia, and then you have everybody else.
Besir Demiri at Shkendija vs. Mladost
With that being said, the best defensive midfielders on those three teams are the following: Vardar (Nikola Gligorov), Shkendija (Besir Demiri) and Rabotnichki (Milovan Petrovikj and Dushko Trajchevski). Gligorov has already been tried by Macedonia, plus he is 32 years old, so he is not the answer. That leaves us with the trio of Besir Demiri, Milovan Petrovikj and Dushko Trajchevski. Demiri, 21, has really improved since moving to Shkendija from Shkupi. He has become one of their key players, and impressed in the two games versus Aberdeen in the Europa League. Demiri can actually play defensive midfield or left-back (where he plays for Macedonia U21). The fact is that the senior squad is more important than the U21 side, so it's time to promote Besir Demiri to see if he can strengthen the defensive midfield position.

Meanwhile, Rabotnichki has Milovan Petrovikj and Dushko Trajchevski. Petrovikj is similar to Demiri in that he can also play defensive midfield or left-back. Petrovikj is 25 years old and he is very active. He is always among the top players when it comes to running the most during an actual game. Meanwhile, Trajchevski has already been capped by Macedonia, even starting the past two games. Trajchevski lacks technique, but he is another guy who is willing to sacrifice and do the so called "dirty work" on a team. He also racks up a lot of running during a game, and defensive midfielders have to cover a lot of ground. One problem for Trajchevski is that he doesn't start regularly at Rabotnichki since the club has Petrovikj and Stephan Vujčić. In the Europa League qualifications, Trajchevski has started three of the six games (all coming on the road), while he has come off the bench in the three home fixtures. Vujčić, born in Germany, should be another player that Macedonia might want to approach about potentially representing the country.
Right DM
Arijan Ademi
Dushko Trajchevski

Left DM
Milovan Petrovikj
Besir Demiri

Wingers:
On the wings, there are more issues with depth. Macedonia really can't afford injuries. Agim Ibraimi, still at Maribor, and Aleksandar Trajkovski, now at Palermo, remain vital pieces. Ibraimi, though, must improve his form for the national team, while we will see whether Trajkovski gets consistent playing time for Palermo. That was a huge transfer, but Macedonia can't benefit much if Trajkovski sits on the bench. The season in Italy starts on August 22. Trajkovski actually started at CF in the Slovakia game, but he had an off day. He has proven to be much more dangerous when utilizing his speed and dribbling skills to run at defenders.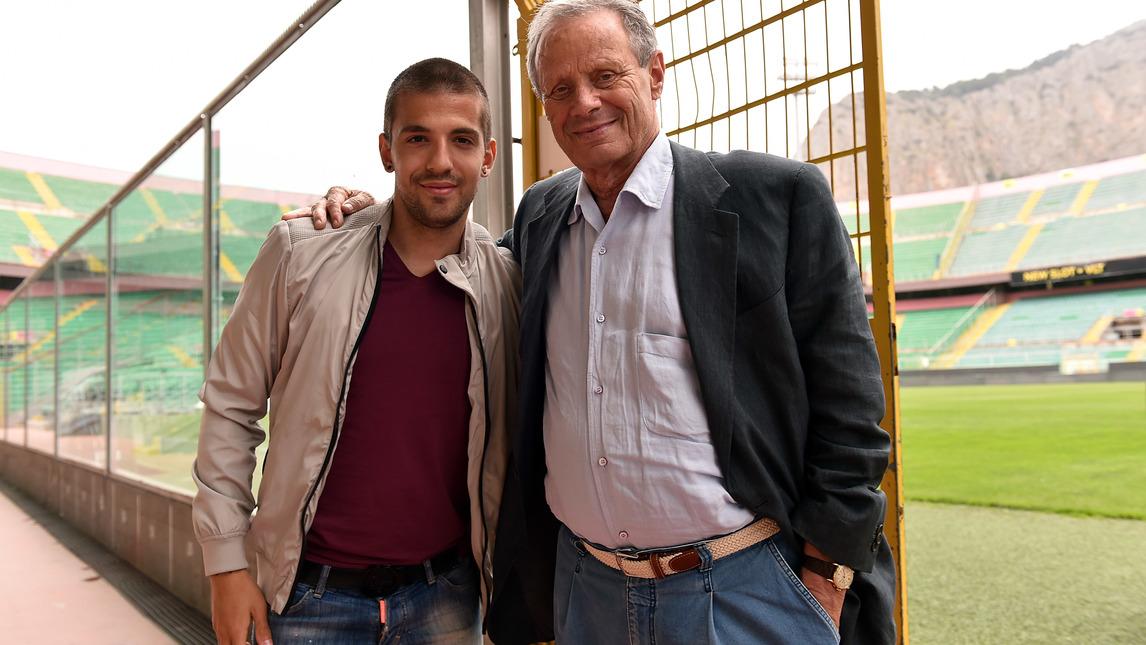 Trajkovski with Palermo owner Maurizio Zamparini
There is little behind those two guys. Muarem Muarem moved to Turkey this summer, so it will be interesting to see how he does in a stronger league. He has looked good in summer friendlies when I asked one Eskişehirspor supporter. Based on current form, Stefan Ashkovski (now playing on the wing) would also make some sense since he has done well for Novi Pazar, but this is the same Ashkovski who was deemed a flop at Shkendija and Strømsgodset (his two prior loan stops before this season). Furthermore, Partizan gave up on him numerous times.

So, the fourth winger came down to Besart Abdurahimi or Krste Velkoski. Although he is out of favor at his club Lokeren, I chose Abdurahimi. The reason for that is Besart has done well for Macedonia. He has shown something in his limited caps, unlike Velkoski. That includes a game winner in the Luxembourg game, still Macedonia's only win in these qualifications. Plus, he has until the end of this month to transfer elsewhere. The decision was made simpler when Sarajevo fans told me that Velkoski has not been in good form and really struggled in the Champions League qualifiers against Lech Poznań.
Abdurahimi scored on this shot vs. Luxembourg
Let's also hope that Ivan Trichkovski finds a new team soon, so he can return to the national team picture as well. It's important to have depth in case of injuries/bad form.

RW
Agim Ibraimi
Besart Abdurahimi

LW
Aleksandar Trajkovski
Muarem Muarem

Attacking midfield:
Ferhan Hasani played in the #10 position for Macedonia against Slovakia. He also features there for Shkendija. Formerly a winger (he can still play there if needed), even last year Hasani was fielded more and more in the so called "trequartista" role by Brøndby. Ferhan, who goes by the nickname "Buba," has been injury prone in his career, but he has done well over the past year when healthy. He surprisingly returned to Shkendija in the summer, but Drulović will still view him as one of the top players on the team. As a reminder, Hasani is actually suspended for the Luxembourg match (due to red card in the Slovakia qualifier), but he will be available for Spain.

There is little quality and depth (true for most positions unfortunately), but that is especially the case in attacking midfield. I looked both in the domestic league and abroad, but nobody really stood out. Therefore, based on form only and the fact that he has scored in three consecutive games, I chose Mario Gjurovski. Now, I understand this is very unrealistic because Mario plays far away in Thailand and he happens to be the nephew of the former manager who was dismissed by the federation. Still, Boshko Gjurovski and FFM left on good terms, so it might be an option, who knows.
Mario Gjurovski's first goal for Macedonia back in 2010 (at 0:53):
The best solution, and I believe we can all agree on this, would be for Goran Pandev to end his retirement from the national team. That way Goran can start in attacking midfield, while Hasani and Ibraimi can compete for the starting role on one wing. It would lead to a trio of Trajkovski, Pandev and Ibraimi/Hasani, something that would look good on paper. However, with every passing week of no news, Pandev looks less likely to change his mind and un-retire.

CAM
Ferhan Hasani
Mario Gjurovski

Center-Forward:
The two choices here are rather easy. They are Jovan Kostovski and Mirko Ivanovski. Kostovski finds himself in very good form as he has already scored 3 goals in the Belgian league this season, while Mirko Ivanovski has become a regular for Videoton. His goal-to-games ratio does need to improve, but Ivanovski made a positive first impression with Drulović after he came off the bench to play well in the Slovakia qualifier.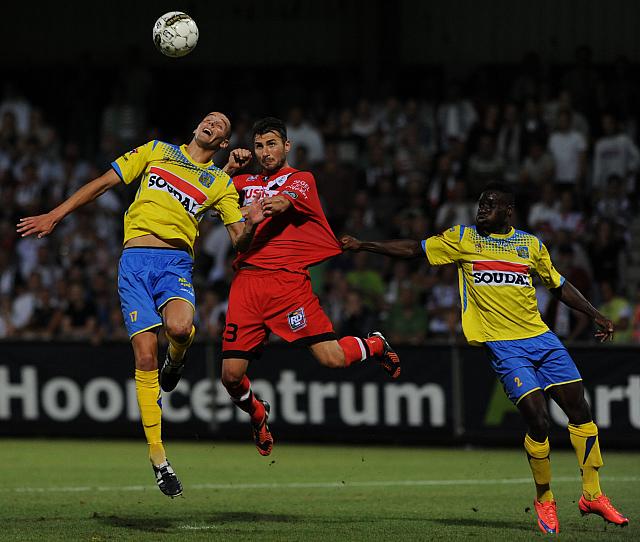 Kostovski playing for OH Leuven
The CF's in the domestic league have been given their chance before, but they failed to take advantage of it. Then you have Adis Jahovikj who is currently injured. However, even if healthy, Adis is not likely to be called up again after his critical comments towards the federation last year.

CF
Jovan Kostovski
Mirko Ivanovski

In conclusion, I want to reiterate that this is my opinion only. Most of us have different thoughts and viewpoints when it comes to squad selections, and that is normal. That's how it should be. Let me know where you agree or disagree, and we can have a civil conversation, without name calling or putting people down. After all, the one common thing that we all share is that we want Macedonia's fortunes to improve.
---