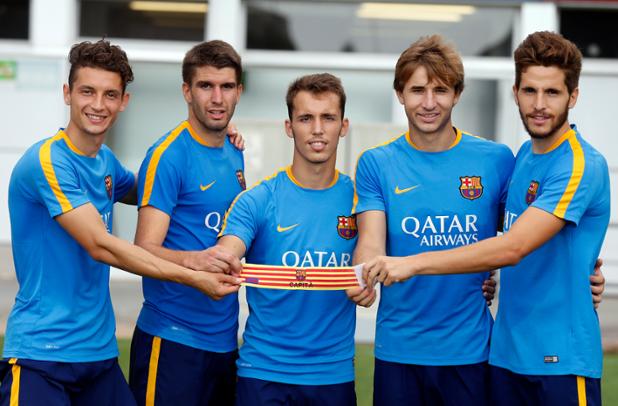 Babunski with the four other players; photo: BarcelonaDavid Babunski will be fifth in command when it comes to the captaincy of Barcelona B this season.
On Thursday, Barcelona B manager Gerard López named the players that would comprise the club's captaincy in the 2015-16 season. It involved five players with the roles being captain, vice-captain, 3rd captain, 4th captain and 5th captain.

David Babunski, member of the Macedonian U21 national team, was chosen to be the 5th captain. The other roles went to Robert Costa (4th captain), Sergio Juste (3rd captain), Sergi Samper (vice-captain) and Álex Grimaldo (captain).

This is a good achievement for Babunski. It could mean that Gerard López, the new manager for this campaign, is counting on David to be a big part of the team. Babunski has been productive in summer friendlies and netted three goals.
Barcelona B now competes in the Spanish third division after they were relegated at the conclusion of last season. Their first league game occurs on August 22 when they square off against Cornellà.
Besides Babunski, another Macedonian player competing in the Spanish third tier is goalkeeper Stole Dimitrievski of Granada B. However, their teams are in different groups. In Spain, the third division has four groups. Barcelona B is located in Group 3, while Granada B sits in Group 4. Thus, they will not be facing off this season.
---