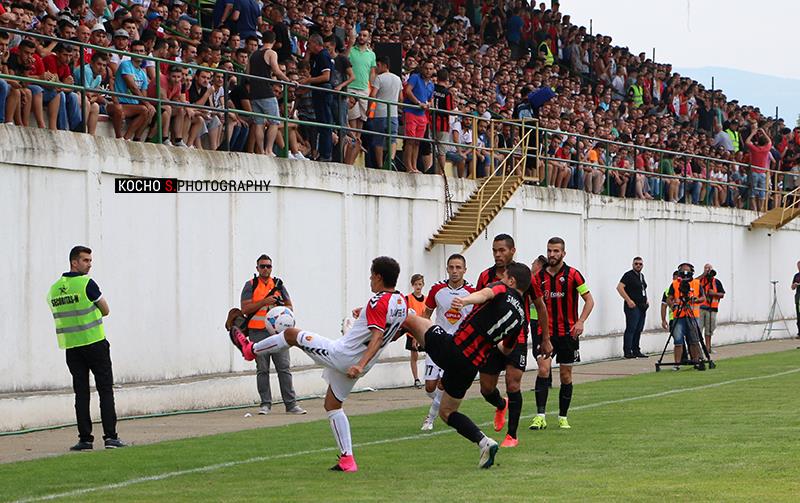 Shkendija vs. Vardar; photo: Kosno S. PhotographyVardar grabbed two late goals to beat Shkendija in the derby of the round, Rabotnichki celebrated over Turnovo in a high scoring affair, while Sileks made it two out of two after their triumph over Bregalnica.
Shkendija vs. Vardar highlighted Round 2 in the top division. Both teams approached this derby in confident fashion, but in the end it was Vardar who left Kumanovo with all 3 points. Macedonian fans, besides the ones that were at the game, did not get a chance to watch the game due to connectivity issues in Kumanovo. Both Shkendija and Vardar planned to stream the game, but the connection issues in Kumanovo prevented that.

Vardar collected a crucial win to make amends for their subpar result in the opening round versus Shkupi. Vardar took the initial 1:0 lead at the 19th minute through Filip Ivanovski, and then two newcomers, Juan Felipe and Cesar Romero, scored two late goals to seal the three points. For Shkendija, their lone goal came via Marjan Radeski just before halftime.
Highlights of the game:
Shkendija: Jovanovski, Todorovski, Abdula, Cuculi, Polozhani, Demiri, Hasani, Radeski (70' Vručina), Stênio Júnior (85' Kirovski), Alimi, Ibraimi.

Vardar: Pachovski, Brdarovski, Popov, Mijušković, Grncharov, Asani (58' Stojkov), Velkovski (75' Nikolov), Gligorov, Juan Felipe, Ivanovski, Blazhevski (60' Cesar Romero).

The most entertaining match of the round took place in Skopje between Rabotnichki and Turnovo. The two teams combined for six goals, Rabotnichki coming out on top 4:2. This was Rabotnichki's last game before their Europa League fixture against Rubin Kazan on Thursday.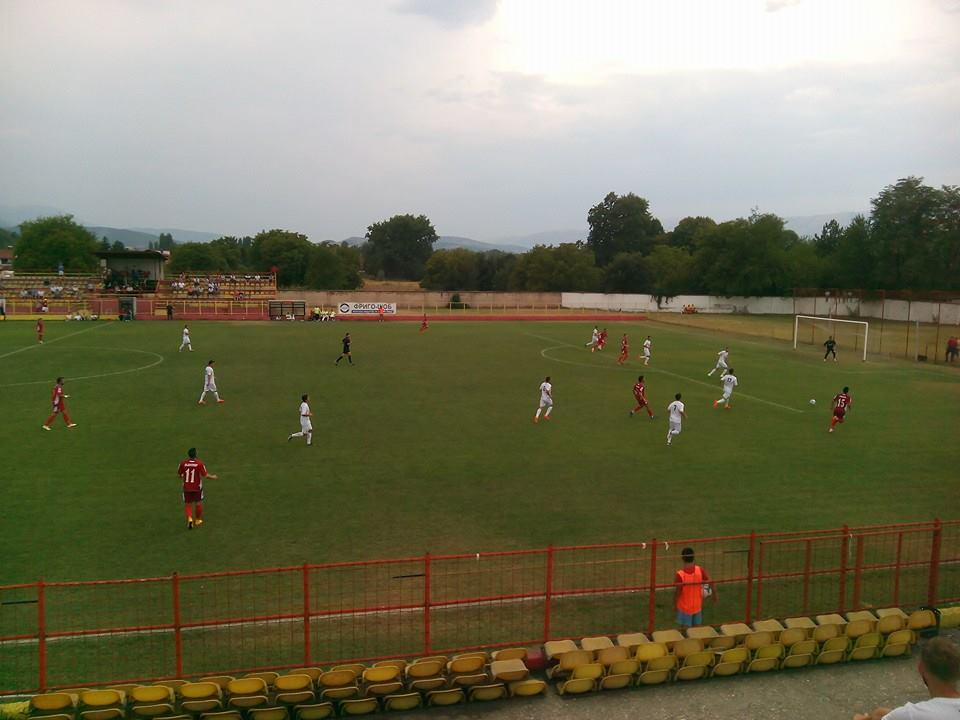 Rabotnichki vs. Turnovo; photo: Filip Zdraveski
Chuma Anene led the way for Rabotnichki with a brace, while Bazhe Ilijoski and Miroslav Jovanoski added one goal apiece. For Turnovo, David Matute and Sashko Pandev got on the scoresheet. There were three lead changes in this back and forth fixture.
Match highlights:
Rabotnichki: Bozhinovski, Siljanovski, Ilievski, Ristevski, Cikarski, Petrovikj, Vujčić, Trajchevski (20' Anene), Markoski (67' Sahiti), Altiparmakovski (80' Jovanoski), Ilijoski.

Turnovo: Jovanov, Tashev (58' Taipi), Iliev, Milushev, Tafe, Najdenov (46' Stoilov), Mavrov, Ivanov, Matute (88' Kochoski), Imeri, Pandev.

Sileks, meanwhile, stayed perfect in the early season. They are the only team to have the maximum 6 points from the opening two rounds. After beating Metalurg 3:0 last weekend, Sileks followed that up with a hard fought 1:0 victory over Bregalnica. Nikolcho Georgiev notched the only goal early in the 2nd minute, and that lead stood the rest of the way.
Match highlights:
Sileks: Mitrović, Timovski, Mickov, Rudan, Djonov (68' Gucev), Ivanov, Todorov, Duranski, Panovski (71' Acevski), Georgiev (81' Marić), Nedeljković.

Bregalnica: Zahov, Blazheski, Tonev, Stojanov, Mitrev, Zdravkov, Nikovski (46' Nacev), Kostov (46' Velkovski), Hristov, Ristovski (61' Iliev), Stanković.

Shkupi and Metalurg shared the points in a goalless draw. The result allowed Metalurg to compile its first point of the campaign, while Shkupi has now played back-to-back draws to open the season.
Shkupi vs. Metalurg; photo: Shvercerat Shkupi
Shkupi: Zendeli, Murati, B. Asani, Adili, Lazarevski, E. Asani, Osmani (78' Maliki), Maksuti (58' Demiri), Bajrami, Iseni (68' Zuka), Nuhiu.

Metalurg: Taleski, Ristovski, Mitrevski, Gjorgievski, Jevtoski, Bakracheski, Krivanjeva, Naumoski (70' Bujchevski), Mersovski (82' Shoposki), Danoski (90' Jakimoski), Angelov.

Finally, in the remaining game, Mladost Cared Dvor recorded its first ever win in the First League. Since this is the first time they have played in the top division, the win over Renova will be deemed historic for Mladost CD. They won 2:1 in Ohrid to keep Renova without a point. Renova becomes the only team to start with two losses, but both of their games have been on the road thus far.
Match highlights:
Mladost Carev Dvor: Petrovski, Elmazovski (81' Markovski), Gjoreski, N. Veljanoski, A. Ristevski, Ilijovski, T. Veljanoski, Dalcheski (64' D. Ristevski), Konjarski, Kalanoski, Cvetanoski (90' Velevski).

Renova: Neziri, Sadiki (81' Jusufi), Mecinovikj, Mishkovski, Musliu, Mojsov (46' Shabani), Gafuri, Skenderi (67' Selmani), Nuhiu, Ramadani, Emini.

Round 2 Results:

Shkendija - Vardar 1:3
41' Marjan Radeski - 19' Filip Ivanovski, 88' Juan Felipe, 90' Cesar Romero

Rabotnichki - Turnovo 4:2
30', 80' Chuma Anene, 61' Bazhe Ilijoski, 90' Miroslav Jovanoski - 57' David Matute, 64' Sashko Pandev

Sileks - Bregalnica 1:0
2' Nikolcho Georgiev

Shkupi - Metalurg 0:0

Mladost Carev Dvor - Renova 2:1
35' Antonio Kalanoski, 86' Blagojche Markovski - 56' Argjent Gafuri
---