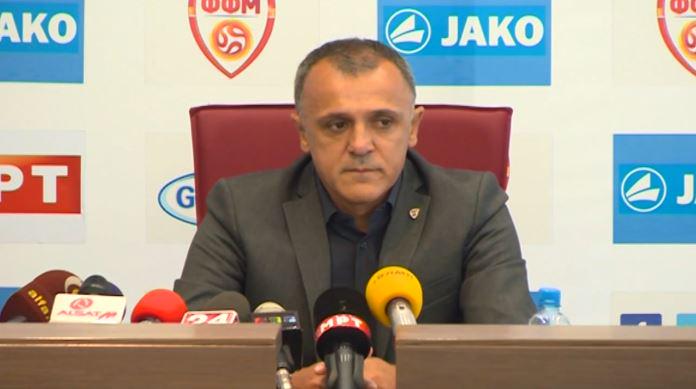 Ljubinko DrulovicManager Ljubinko Drulovic called up 21 players for the upcoming qualifiers against Luxembourg and Spain next month.
As expected, there wasn't a drastic overhaul to the roster. When Ljubinko Drulovic took charge of the national team, he stated that he wanted to develop a core and not change players as frequently as his predecessor Boshko Gjurovski.
The new names on the latest squad are right-back Goran Siljanovski, defensive midfielders Milovan Petrovic and Nikola Gligorov, and winger Stefan Ashkovski. Meanwhile, the guys that were dropped include goalkeeper Filip Gachevski, right-back Aleksandar Todorovski, center-back Darko Velkovski, defensive midfielders Ostoja Stjepanovic, Stefan Spirovski and Dushko Trajchevski, and winger Krste Velkoski. There is absolutely no surprise there. The seven players that were not called up this time either failed to impress in the Slovakia game, or are currently backups for their respective clubs.
Brief video from the press conference:
Interestingly, Arijan Ademi finds himself on the list. That is good news since he was rumored to be out three weeks with an injury. His mere presence means that Drulovic is confident Arijan will be available, at least for the Spain game on September 8.
The position that Drulovic shook up the most is defensive midfield. He will now try out Milovan Petrovic and Nikola Gligorov to see whether they can strengthen that area.
5 minute interview that Drulovic did with Kanal 5:
Look for another two players to be added by August 31, the day when the national team gathers to begin its preparations. One position will definitely be a third keeper, while the other position should be a midfielder or attacker. Director Sasha Ciric mentioned that FIFA may have a hearing over the next week to decide the cases of MF Uros Matic and GK David Mitov Nilsson. If FIFA clears both guys to represent Macedonia, then look for Matic and Mitov Nilsson to be added to the squad.
Goran Pandev, who was being talked about as a possibility, is still missing from the squad. It remains to be seen whether Pandev, 32, will reconsider his retirement from the Macedonian national team. Drulovic was optimistic about Pandev not too long ago, but that time will not be now. Goran wants to first establish himself at Genoa before thinking about playing for Macedonia. He told Drulovic and Ciric that he is still not ready physically and mentally to return at this time.
No U21 players were summoned since the youth national team plays two games during the same period. Macedonia U21 meets Ukraine in a qualifier on September 5, and then plays a friendly against Australia two days later.
Complete squad:

Tome Pachovski - Vardar

Stole Dimitrievski - Granada
Stefan Ristovski - Rijeka

Goran Siljanovski - Rabotnichki

Vanche Shikov - Austria Wien

Daniel Mojsov - Adana Demirspor

Vladimir Dimitrovski - Kerkyra

Kire Ristevski - Rabotnichki

Leonard Zuta - Häcken

Ezgjan Alioski - Schaffhausen
Arijan Ademi - Dinamo Zagreb

Milovan Petrovic - Rabotnichki

Nikola Gligorov - Vardar

Aleksandar Trajkovski - Palermo

Agim Ibraimi - Maribor

Ferhan Hasani - Shkendija

Stefan Ashkovski - Novi Pazar

Besart Abdurahimi - Lokeren

Muarem Muarem - Eskişehirspor
Jovan Kostovski - OH Leuven

Mirko Ivanovski - Videoton
Macedonia plays away to Luxembourg on September 5, before then coming back home to face Spain on September 8 (that also happens to be Independence Day). The Macedonian federation will honor former national team mainstay Nikolche Noveski at that game. They will thank him for his contributions and for positively promoting Macedonian football abroad.
---