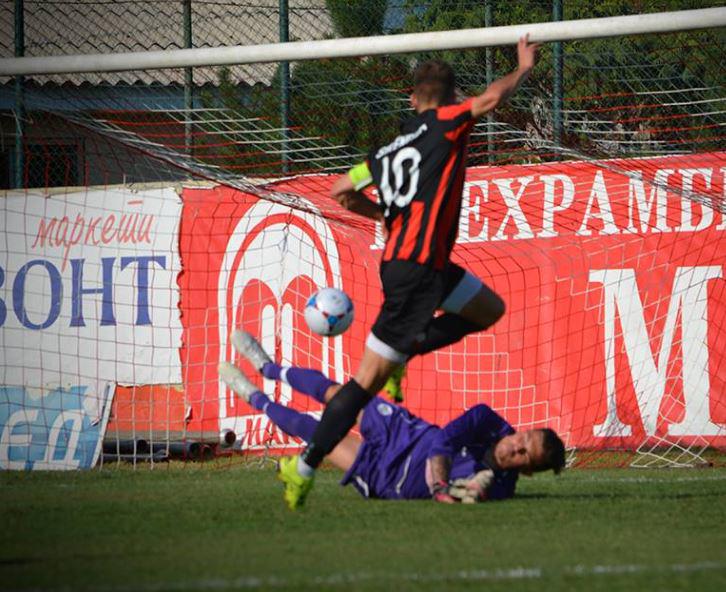 Ferhan Hasani's first goal; photo: ShkendijaVardar and Shkendija continued to take care of business by beating Bregalnica and Turnovo, respectively, Renova recorded its first point of the season, while Metalurg maintained its bad form with a home loss to Mladost.
Bregalnica hosted Vardar in the city of Kochani since their home venue in Shtip is under renovation. Vardar was superior throughout the match and even benefited when Bregalnica went down to 10 men early in the 2nd half. The two goals by Vardar came in the opening 24 minutes. In the 5th minute, Dejan Blazhevski sent a precise shot from just inside of the area past the keeper, while Juan Felipe, who collected the assist on the first goal, scored directly from a free kick in the 24th minute.
Bregalnica: Zahov, Mitrev, Stojanov, Tonev, Velkovski (72' Stanković), Hristov, Zdravkov, Kostov (46' Nikovski), Ristovski, Kocev, Nacev (61' Mihailov).

Vardar: Pachovski, Hambardzumyan, Velkovski, Mijušković, Popov, Gligorov, Nikolov, Juan Felipe, Ljamchevski (69' Brdarovski), Blazhevski (87' Asani), Ivanovski (73' Petkovski).

Shkendija also had no problems on the road, easily beating Turnovo. Ferhan Hasani led the way with two goals, while Blagoja Todorovski added another in a 3:0 win. Hasani grabbed his first goal in the 13th minute after getting his shot over the keeper following a pass by Besart Ibraimi, while his second goal came in the 55th minute on an easy effort from close range. Just before halftime, Todorovski notched a goal as well when he went forward from his right-back position and slotted a shot to the back of the net. That goal, just like the first, was assisted by Ibraimi.
Highlights of the game:
Turnovo: Stoilkov, Tashev, Iliev, Ivanov, Milushev, Tafe, Tanushev (72' Bozhinov), Mavrov, Matute (72' Matute), Kochoski (61' Stoilov), Pandev.

Shkendija: Jovanovski, Todorovski (73' Bojku), Bejtulai, Polozhani, Cuculi, Demiri, Alimi, Hasani, Stênio Júnior (46' Vručina), Ibraimi, Radeski (67' Kirovski).

Renova collected its first point of the season by drawing 1:1 against Shkupi. After going down early, Renova would bounce back to score one goal in the 2nd half through substitute Fatjon Jusufi. Shkupi, who was without their leading scorer Ardian Nuhiu due to an injury, amassed their lone goal in the 5th minute through Husein Demiri.
Shkupi defends Renova's Izair Emini; photo: Shkupi
Renova: Neziri, Memedi, Mishkovski, Mecinovikj, Musliu, Mojsov (80' Selmani), Sadiki (46' Jusufi), Shabani, Ramadani (46' Skenderi), Nuhiu, Emini.

Shkupi: Zendeli, Murati, Adili, B. Asani, Lazarevski, E. Asani, Bajrami, Adem (59' Arif), Maliki (77' Osmani), Bae, Demiri (59' Maksuti).

Metalurg continued its tough start to the season with another loss, this time at home against newly promoted side Mladost. The visitors scored twice in the opening 10 minutes, something that was enough for them to edge Metalurg.
Highlights of the game:
Metalurg: Taleski, Ristovski, Mitrevski, Krivanjeva, Gjorgievski, Jevtoski, Krstev, Bakracheski, Mersovski, Danoski, Stojanovski.

Mladost CD: Petrovski, Elmazovski, N. Veljanoski, Gjoreski, Ristevski, Dalcheski, T. Veljanoski, Ilijovski, Konjarski, Cvetanoski, Kalanoski.

The last game of the round saw Rabotnichki hand Sileks its first loss of the campaign. Two quick goals by Bazhe Ilijoski in two minutes was all Rabotnichki needed to down Sileks 2:0. The goals came in the 18th and 19th minute as Sileks lost concentration to concede in succession.
Rabotnichki: Bozhinovski, Siljanovski, Ilievski, Ristevski, Cikarski, Petrovikj (46' Trajchevski), Vujčić (62' Sahiti), Jovanoski, Markoski, Altiparmakovski, Ilijoski (75' Ristovski).

Sileks: Mitrović, Timovski, Mickov, Gucev, Ivanov, S. Rudan, Gjurchinovski (70' Gligorov), Mitevski, Duranski, Raspashkovski (46' Acevski), Nedeljković (46' M. Rudan).
Round 5 results:
Bregalnica - Vardar 0:2
5' Dejan Blazhevski, 24' Juan Felipe

Turnovo - Shkendija 0:3
13', 55' Ferhan Hasani, 44' Blagoja Todorovski

Renova - Shkupi 1:1
58' Fatjon Jusufi - 5' Husein Demiri

Metalurg - Mladost Carev Dvor 1:2
30' Vlatko Stojanovski - 6' Aleksandar Dalcheski, 10' Blagojche Konjarski
Rabotnichki - Sileks 2:0
18', 19' Bazhe Ilijoski
---