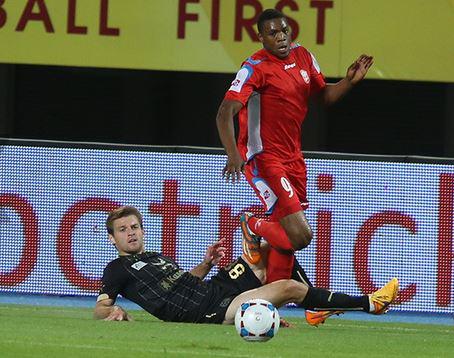 Chuma Anene; photo: TelegrafChuma Anene, one of the best players for Rabotnichki, will move to the Russian league to join Amkar Perm.
The transfer of Chuma Anene to Amkar Perm once again reinforces the shrewd business strategy of Rabotnichki. Buy low and sell high. Anene came to the Macedonian league as a free agent, and he leaves Rabotnichki by bringing them an undisclosed transfer fee. That's how Rabotnichki, a team with a small budget, is able to survive on a yearly basis.

Anene, 22, was once a very talented teenager who played regularly for the youth national teams of Norway. As a reminder, Anene was born in Norway, but his origins hail from Nigeria. As Chuma entered his early 20's, his career began to take a turn for the worse. So, last summer, at the age of 21, he moved to Macedonia to join Rabotnichki.

That proved to be a very good decision for Anene. It resurrected his career at a time when his confidence was low. He even told us as much when we interviewed Anene this past May.

Terms have already been agreed upon between Rabotnichki and Amkar, while Anene has agreed to personal terms with Amkar. The transfer will be made official once Chuma passes his medical. That should happen over the next day or so.

Chuma played all 8 games for Rabotnichki in the Europa League qualifications this summer. In particular, Amkar scouted him while Rabotnichki was facing Rubin Kazan, a fellow Russian club. His performances were deemed satisfactory, leading Amkar to open talks with Anene and Rabotnichki. A transfer free was quickly reached. Anene did not play for Rabotnichki on Sunday because the club didn't want to risk a potential injury. The Norwegian striker did bid farewell to his Rabotnichki teammates to begin the next step of his career in Russia.
---