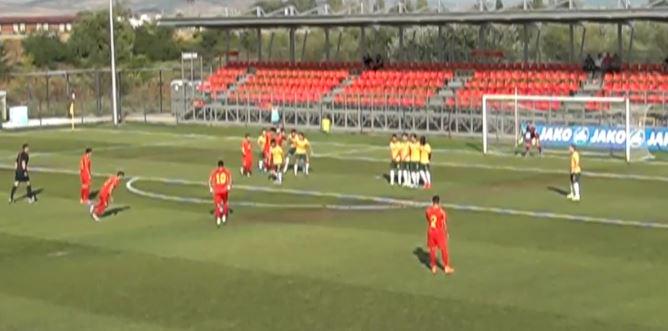 Imeri would score on this free kickAnother impressive result for Macedonia U21. Despite numerous absences, the U21 national team defeated their Australian counterparts 3:1.
After the 1:0 win over Ukraine on Saturday, the U21 manager of Macedonia, Blagoja Milevski, made numerous changes to his starting lineup. Only goalkeeper Igor Aleksovski and midfielder Daniel Avramovski started once again, while the other nine starters were new.

Milevski did lose four regulars in Gjoko Zajkov, Boban Nikolov, Enis Bardhi and Marjan Radeski to the senior national team, while most of the other starters from the Ukraine qualifier were given a rest. The friendly against Australia was used to test the seldom used players.

Phil Petreski and Nicola Kuleski, both born in Australia, started for Macedonia U21 in what was a special match for them.

It didn't take long for the first goal to arrive. In the 3rd minute, Demir Imeri would score directly from a free kick. He sent a low effort past the diving keeper of Australia. The visitors grabbed an equalizer in the 14th minute. After some nice build-up play, Australia scored on an easy shot from close range.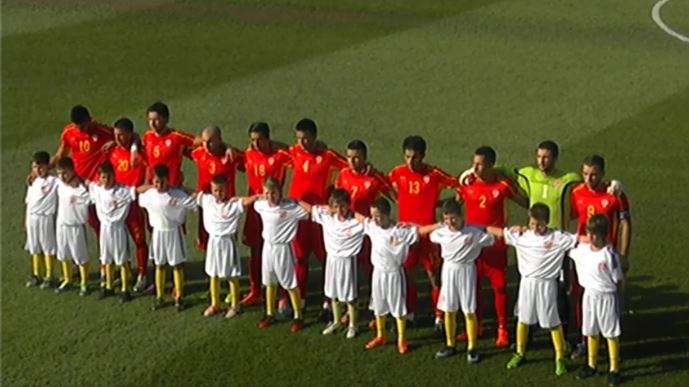 The starters get ready to sing the anthem
Just before halftime, Macedonia U21 would retake the lead. The goalscorer this time was captain Viktor Angelov. He received a through ball that put him 1-on-1 with the keeper. Angelov calmly rounded the GK and scored into an empty net. That ensured that Macedonia would head into the halftime break with a 2:1 lead.

Petar Petkovski would make it 3:1 in the 63rd minute. The Vardar winger scored a good individual goal. He made a long run and fired an accurate shot to the upper right corner.
Video of the goals:
The only negative in this game was the injury to Daniel Avramovski. He went down around the half hour mark and had to be substituted. Daniel was able to walk on his own power as he left the pitch, so hopefully the injury is not too serious.

Macedonia U21: Aleksovski, Ristovski, Musliu, Najdovski, Petreski, Mustafov (66' Markoski), Kuleski (74' Ivanov), Petkovski (74' Velkovski), Avramovski (32' Demiri (80' Murati), Imeri (66' Denkovski), Angelov (C) (81' Zdravkovski).
---