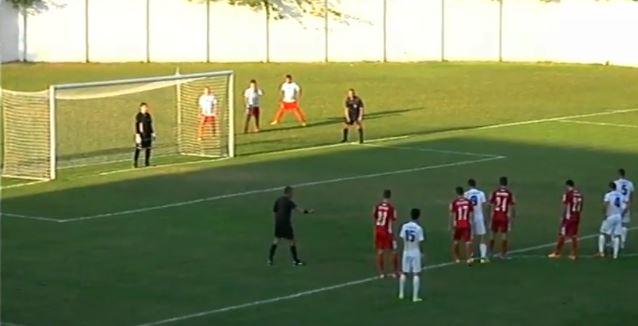 Shkupi would convert this penaltyVardar demolished Turnovo to stay in good form, Shkendija took care of business versus Renova, Shkupi converted a late penalty to draw Rabotnichki, while Bregalnica and Mladost CD recorded much needed wins against Metalurg and Sileks, respectively.
At the "National Arena Philip II of Macedonia," Vardar had an easy time against Turnovo. Dejan Blazhevski and Cesar Romero led the way with two goals apiece, while Filip Ivanovski added one goal as well. Ivanovski opened the scoring in the 16th minute on a header, while Blazhevski made it 2:0 two minutes later. Dejan capitalized on some terrible defending to score from close range. Before halftime, Cesar Romero completed a brace with two impressive goals. His first strike came on a shot from just outside of the area, while his second goal was an absolute beauty on a long-range free kick. At the hour mark, Romero received a red card for an incident in the box. While waiting for a corner kick to be taken, a Turnovo player went down, accusing Romero of hitting him. The referee decided to dismiss the Mexican-American attacker. Blazhevski would then grab his second goal midway through the 2nd half on a well placed effort from inside the area. Turnovo, would net a late consolation goal via Kristijan Ivanov. After some sloppy defending, Ivanov found himself in a great position and slotted a shot past Pachovski.
Highlights of the game:
Vardar: Pachovski, Hambardzumyan (76' Brdarovski), Mijušković, Velkovski, Popov, Gligorov (82' Novak), Felipe, Ljamchevski (64' Spirovski), Romero, Blazhevski, Ivanovski.

Turnovo: Stoilkov, Iliev, Tashev, Ivanov, Milushev, Mavrov, Tanushev (36' Matute), Najdenov (82' Taipi), Tafe, Imeri (68' Bozhinov), Pandev.

Shkupi, meanwhile, managed to hold off Rabotnichki in a 1:1 draw. The first goal fell in the 18th minute. After a defensive mistake, the ball reached Bazhe Ilijoski who calmly sent his shot past the opposing keeper. That lead stood until the 85th minute when Shkupi was awarded a penalty. The referee ruled that Leon Najdovski had committed a foul inside the area, so Muharem Bajrami took the spot kick and send his attempt past Daniel Bozhinovski.
Video of the goals:
Shkupi: Zendeli, Murati, E. Asani, Adili, Lazarevski, Bajrami, B. Asani, Bae, Bojku (70' Arif), Iseni (66' Demiri), Nuhiu (57' Osmani).

Rabotnichki: Bozhinovski, Najdovski (88' Bocevski), Ilievski, Cikarski, Petrovikj, Trajchevski, Vujčić, Jovanoski (80' Ristovski), Mitrov (46' Markoski), Altiparmakovski, Ilijoski.

Also in Skopje, Metalurg continued to struggle with another loss, this time to Bregalnica (another struggling club). Both teams had new managers for this game, but Bregalnica responded much better. The visitors from Shtip won in convincing fashion 3:0.
Highlights of the game:
Metalurg: Dimovski, Ristovski, Mitrevski, Krivanjeva, Gjorgievski, Jevtoski, Stancheski, Danoski (67' Jakimoski), Naumoski (63' Mersovski), Angelov, Bujchevski (40' Stojanovski).

Bregalnica: Zahov, Velkovski, Tonev, Stojanov, Mitrev, Hristov, Zdravkov, Mishev (61' Nikovski), Iliev (82' Kocev), Nacev (74' Mihailov), Stanković.

Sileks was surprised in Ohrid by losing 3:1 to Mladost Carev Dvor. Mladost made a furious start by scoring all three goals in the 1st half for a commanding 3:0 lead. Sileks would pull one back after the break on a converted penalty kick, but that was it for them.
Mladost vs. Sileks; photo: ohridnews.com
Mladost CD: Petrovski, N. Veljanoski (88' Grozdanoski), Gjoreski, T. Veljanoski, Ristevski, Dalcheski, Simjanovski, Markovski (76' Sali), Cvetanoski, Konjarski, Kalanoski.

Sileks: Mitrović, Timovski, Mickov, Gucev, Ivanov, Bagashovski (46' Marić), Todorov (80' Gligorov), Mitevski, Duranski, Gorgiev (46' Klechkaroski), Nedeljković.

In the final game, Shkendija, as expected, beat Renova 3:1. Armend Alimi scored an early goal on a nice shot from the edge of the area, while Ferhan Hasani made it 2:0 just before halftime when he converted a penalty. Ten minutes into the 2nd half, Renova was awarded a penalty which Izair Emini sent past Marko Jovanovski. The score of 3:1 was set in the 66th minute on a close range effort by Stênio Júnior.
Highlights of the game:
Shkendija: Jovanovski, Todorovski, Polozhani, Bejtulai, Cuculi, Demiri, Alimi, Hasani (86' Useini), Stênio Júnior, Radeski (46' Totre), Ibraimi (81' Kirovski).

Renova: Efremov, Memedi, Mecinovikj, Mishkovski, Musliu, Mojsov (58' Sadiki), Gafuri, Jusufi (46' Skenderi), Selmani (73' Redjepi), Ramadani, Emini.

Round 6 Results:

Vardar - Turnovo 5:1
16' Filip Ivanovski, 18', 66' Dejan Blazhevski, 36', 45' Cesar Romero - 90' Kristijan Ivanov

Shkupi - Rabotnichki 1:1
85' (pen) Muharem Bajrami - 18' Bazhe Ilijoski

Metalurg - Bregalnica 0:3
3' Darko Stojanov, 23' Angel Nacev, 83' Dean Mitrev

Mladost Carev Dvor - Sileks 3:1
2' Blagojche Markovski, 40' Antonio Kalanoski, 45' Mirko Simjanovski - 70' (pen) Igor Nedeljković
Shkendija - Renova 3:1
6' Armend Alimi, 43' (pen) Ferhan Hasani, 66' Stênio Júnior - 53' (pen) Izair Emini
---