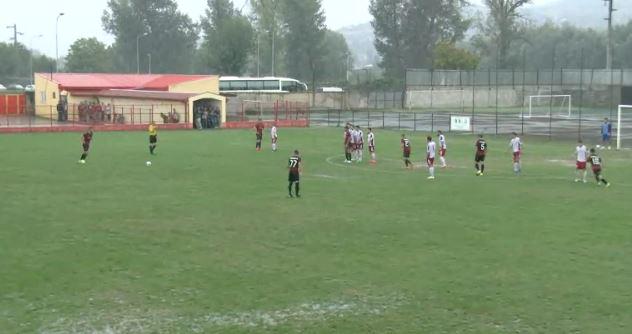 The free kick goal by HasaniShkendija utilized a hat-trick from Ferhan Hasani to down Rabotnichki, Vardar suffered a frustrating goalless draw against Renova, while Sileks edged Shkupi with a single goal.
The most entertaining game of the round was played between two of the top domestic clubs, Rabotnichki and Shkendija. Both teams were offensive minded, so the fans got a good show. In a game that combined for six goals, Shkendija came out on top 4:2. Their captain, Ferhan Hasani, led the way with a hat-trick. The best goal by Hasani was his first when he slotted a long-range free kick past the Rabotnichki keeper. Rabotnichki twice had the lead, at 1:0 and at 2:1, courtesy of shots by Bazhe Ilijoski and Dushko Trajchevski, but Shkendija responded nicely to get all three points. This result moved Shkendija to first place on the table, one point above Vardar.
Highlights of the game:
Rabotnichki: Bozhinovski, Ilievski, Ristevski, Petrovikj, Markoski, Mitrov (82' Ristovski), Vujčić, Trajchevski, Cikarski, Altiparmakovski, Ilijoski.

Shkendija: Jovanovski, Todorovski, Polozhani, Bejtulai, Cuculi, Demiri, Alimi, Totre (80' Berisha), Hasani, Stênio Júnior (61' Vručina), Ibraimi (84' Radeski).

Vardar, meanwhile, was held to a frustrating goalless draw against Renova. The quality was on Vardar's side as they had the better chances, but their finishing was off. Otherwise, Renova defended well with good organization and discipline. Vardar will rue these two dropped points.
Renova: Efremov, Musliu, Mishkovski, Trajchev (46' Redjepi), Mojsov, Gafuri (90' Imeri), Selmani (90' Mecinovikj), Shabani, Fetai, Nuhiu, Emini.

Vardar: Pachovski, Hambardzumyan, Velkovski, Mijušković, Popov, Gligorov, Nikolov, Ljamchevski (60' Stojkov), Juan Felipe, Blazhevski (74' Asani), Ivanovski.

In Kratovo, Sileks needed a single goal to narrowly edge Shkupi. In what was a game with two teams that play hard but are limited, a strike by Igor Nedeljković just before halftime proved enough to hand Sileks the 1:0 triumph.
Some highlights of the game:
Sileks: Mitrović, Timovski, Ivanov, Gucev (81' Ristevski), Mickov, Rudan, Gligorov, Duranski, Panovski (74' Todorov), Gorgiev (60' Acevski), Nedeljković.

Shkupi: Zendeli, Murati (80' Zuka), Asani, Adili, Lazarevski, Bajrami, Bojku (60' Demiri), Osmani, Bae, Adem, Iseni (60' Arif).

Metalurg managed to avoid another loss by scoring a late equalizer against Turnovo. Sashko Pandev, Turnovo's captain, opened the scoring in the 34th minute when he converted a penalty, but substitute Zoran Danoski brought Metalurg level in the 82nd minute for a final score of 1:1.

Turnovo: Stoilkov, Tashev, Iliev (88' Stevanović), Ivanov, Milushev, Mavrov, Najdenov, Matute (75' Taipi), Kochoski (61' Tanushev), Imeri, Pandev.

Metalurg: Dimovski, Ristovski, Mitrevski, Krivaneva, Gjorgievski, Bakracheski (82' Naumoski), Jevtoski, Mersovski (46' Danoski), Stancheski (72' Bujchevski), Angelov, Naumoski.

In Kochani, since Bregalnica's stadium in Shtip is under construction, Mladost continued their fine form with another win. They have now collected four victories, with their only losses being against Vardar and Shkendija. Mladost also has a game in hand since an earlier match against Rabotnichki was postponed. Returning to Bregalnica vs. Mladost, the former side was playing for the first time under permanent head coach Toni Jakimovski. However, Mladost ensured a bad beginning to Jakimovski's tenure. In a back-and-forth affair, Mladost led on three different occasions, the game winner coming in the 78th minute.
Bregalnica: Zahov, Mitrev, Tonev, Stojanov (49' Nikovski), Hristov, Velkovski, Zdravkov, Kocev, Mishev (58' Mihailov), Stanković, Nacev.

Mladost CD: Petrovski, Gjoreski (73' Elmazovski), N. Veljanoski, Ristevski, Sherifi (47' Dimoski), Dalcheski, T. Veljanoski, Konjarski, Markovski, Cvetanoski (89' Grozdanoski), Kalanoski.

Round 7 results:

Rabotnichki - Shkendija 2:4
6' Bazhe Ilijoski, 50' Dushko Trajchevski - 18', 60', 62' Ferhan Hasani, 72' Bojan Vručina

Renova - Vardar 0:0

Sileks - Shkupi 1:0
45' Igor Nedeljković

Turnovo - Metalurg 1:1
34' (pen) Sashko Pandev - 84' Zoran Danoski

Bregalnica - Mladost Carev Dvor 2:3
36' Stefan Kocev, 67' Angel Nacev - 11', 78' Blagojche Markovski, 44' Naum Veljanoski
---