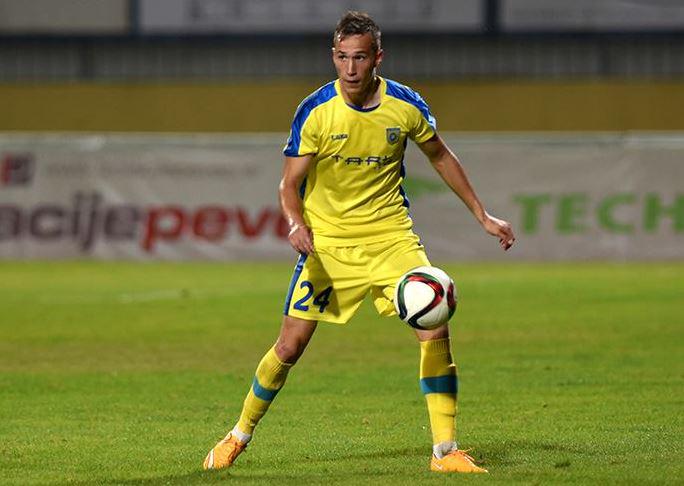 Dejan TrajkovskiDespite showing interest in representing Macedonia, Dejan Trajkovski may be lost for good after he was called up by Slovenia on Thursday.
Dejan Trajkovski, a left-back, has not hid his interest in potentially representing Macedonia at international level. We contacted him on Facebook months ago and he said as much. Less than two weeks ago, he was quoted on daily newspaper "Dnevnik" as saying that he wanted to represent Macedonia. Dejan was even in the process of obtaining a passport, but all that may be for naught after Thursday's news.

Former Macedonia manager Srečko Katanec, now the boss of Slovenia, called up Trajkovski for the upcoming two qualifiers against Lithuania and San Marino. The news came as a surprise in Slovenia as not many people saw it coming, including our Slovenian friends on Twitter.
Even Trajkovski himself was surprised to be selected, based on his comments to snportal.si. He probably never thought he would get a chance with Slovenia, leading to his desire to ponder other options, in this case Macedonia due to his origins.

If Trajkovski is capped in any of the upcoming two qualifiers, he will no longer be eligible for Macedonia. However, if Dejan stays on the bench, then he could still switch to Macedonia in the future. Bojan Jokic, who plays in Spain with Villarreal, is the usual starter at left-back for Slovenia. So, Dejan faces an uphill battle to unseat him. It will likely require an injury or a suspension for Trajkovski to be preferred to Jokic. Thus, there is still a chance that Macedonia could pounce in the future if Trajkovski does not get capped against Lithuania or San Marino.
Macedonia has benefited from similar things in the past. For instance, Arijan Ademi and David Mitov Nillson switched national teams after they were formerly summoned by Croatia and Sweden, respectively. Both of them even played in friendlies, but since those are not qualifiers, they were still eligible to change allegiances. That's what happened with both.

The two left-backs on the current Macedonian roster are Leonard Zuta and Mite Cikarski. Trajkovski, though, would certainly be an upgrade over Cikarski. It's always good to have competition and then Zuta and Trajkovski can compete for the starting spot. Hopefully that will still happen down the line, in the event that Trajkovski does not get capped for Slovenia later this month.
---