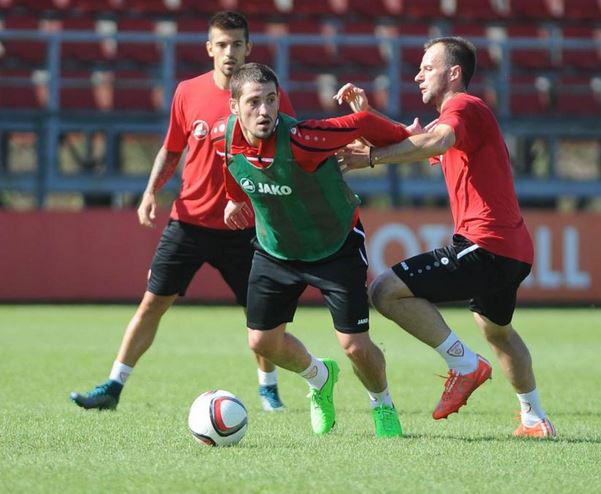 Arijan Ademi; photo: sportmedia.mkTerrible news for both Macedonia and Dinamo Zagreb as Arijan Ademi failed a doping test after the Champions League clash versus Arsenal.
It seems that Macedonia can't avoid drama prior to a match. Whether it's injuries, players leaving without approval or something else, awful things tend to happen. That continued on Wednesday, just two days before the Ukraine qualifier, when a bombshell arrived via a letter from UEFA.

Both Dinamo Zagreb, the player's club team, and Macedonia, his national team, were informed on Wednesday that Arijan Ademi had failed his doping test following the Champions League encounter between Dinamo and Arsenal. Dinamo won that game 2:1 in mid-September.

This is obviously shocking and terrible news, but doping can't be tolerated. That is cheating with a player looking to gain an unfair edge.

UEFA has opened proceedings against Ademi. He will need to provide a B sample. If that is also positive, then he is facing a lengthy suspension. Based on UEFA documents, the suspension for a first time doping violation can range from 1-4 years. However, more often that not, the suspension will either be 2 or 4 years.
Dinamo Zagreb stated that Ademi had been tested six times over the last year, but all of those tests came back negative. So, Dinamo was surprised to learn that Ademi has tested positive last month.

With this news, Ademi will obviously not be able to play for Macedonia in the upcoming two fixtures versus Ukraine and Belarus. It's yet another distraction that the team will have to deal with. We'll see how Macedonia responds over the coming week.

Ademi was a guaranteed starter for Macedonia, so his absence means that Ostoja Stjepanovic or Armend Alimi will likely partner Milovan Petrovic in defensive midfield.
---