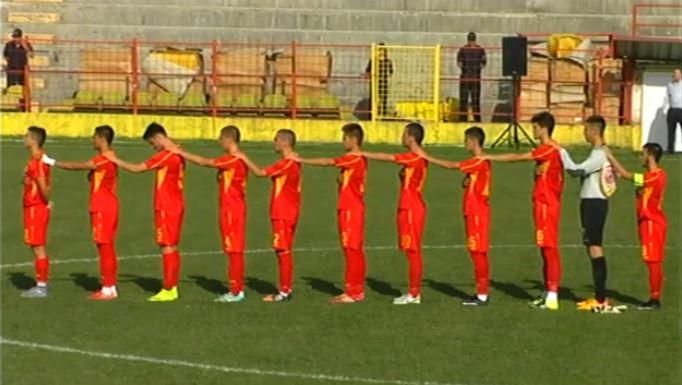 Macedonia U19 at a recent friendlyBeginning on Thursday, Macedonia U19 will host a qualifying tournament featuring England, Italy and Finland.
Over the next six days, Macedonia will host an U19 qualifying tournament. The U19 national teams in Group 4 include Macedonia, England, Italy and Finland. All four squads will be hoping to reach the elite round which requires a top-2 finish.

The group features two powerhouses in England and Italy, so they are the favorites on paper. However, Macedonia will be hoping to take advantage by playing at home. Each Macedonia game will take place at the FFM training center, while the other games not involving Macedonia will be played at "Boris Trajkovski' stadium.

The six teams will play each other once. Macedonia opens with England on October 8, then meets Italy on October 10 before closing with Finland on October 13. It would have been better to face Finland sooner, but the schedule can't be redone. Macedonia must avoid losses in at least one of the first two games to give itself a chance of advancing to the elite round.

U19 manager Goran Stanikj called up the following 18 players:

Filip Ilikj - Metalurg

Bobi Celeski - Grosseto


Slobodan Bocevski - Rabotnichki

Shaip Tela - Neuchâtel Xamax II

Sabahudin Alomerovikj - Gorno Lisiche

Stefan Jevtoski - Metalurg

Nehar Sadiki - Gorno Lisiche

Stefan Lazarevikj - Makedonija GjP


Sashe Shoposki - Metalurg

Davor Zdravkovski - Makedonija GjP

Kristijan Karanfilovski - Metalurg

Matej Cvetanovski - Makedonija GjP

Burim Abdulahi - Servette U19

Emil Abaz - Anderlecht U19


Petar Petkovski - Vardar

Remzifaik Selmani - Renova

Valentin Kochoski - Turnovo

Martin Hristov - Gorno Lisiche


The leader and captain for Macedonia U19 is Petar Petkovski of Vardar. He is the main threat offensively, while the other key guys in attack are Valentin Kochoski and Emil Abaz. The defense, on the other hand, is the weak link. They must improve for Macedonia to have a chance at surprising England or Italy.

All games for Macedonia U19 should be live-streamed on ffm.mk. If you visit that site, there is a youtube link on the right hand side that should show the three games for Macedonia U19.
---