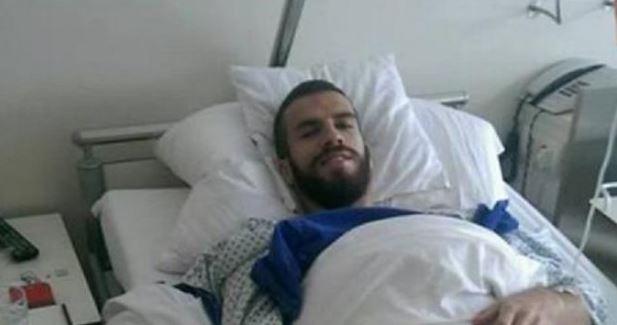 Hasani after his surgery; photo: ShkendijaShkendija's odds of winning the league title took a big hit on Wednesday after it was announced that Ferhan Hasani will be out 6-8 months.
The worst case scenario for Shkendija and Ferhan Hasani was confirmed in Augsburg, Germany. After Shkendija expressed concerns about the initial diagnosis by the national team doctors (they said Hasani would be sidelined 3 weeks), the Tetovo based club decided to send Hasani to a hospital in Germany that specializes on knee injuries.

A second opinion showed a torn ACL on the right knee of Hasani. That means that Ferhan will be out of action for at least 6 months. However, most torn ACL's take anywhere from 6-8 months. It's a devastating injury for any athlete, especially in a sport like football.

Hasani underwent a successful surgery on Wednesday, Shkendija announced on its website. Missing six months would see him be eligible to return in mid-April of next year, but seven or eight months could rule him out for the rest of the domestic season.

The last national team player to suffer a torn ACL was Ostoja Stjepanovic. For him, it took just over eight months to return to the pitch.
---