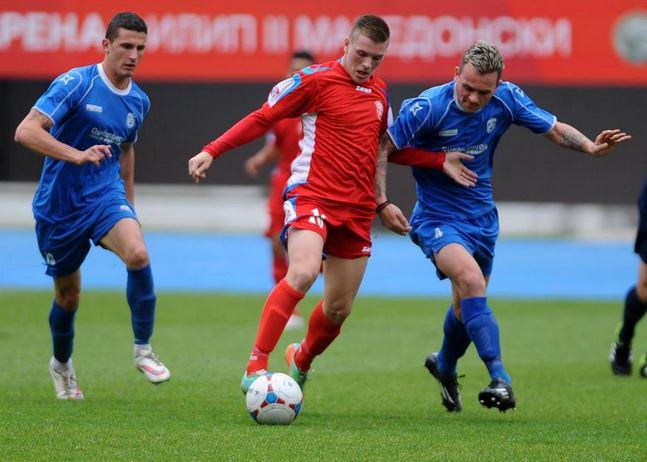 Emir Sahiri during his debut; photo: sportmedia.mkRabotnichki and Bregalnica played a goalless draw in the only top division game to take place on Saturday.
At the "National Arena Philip II of Macedonia," Rabotnichki continued to disappoint in league play with an underwhelming goalless draw against Bregalnica. The visitors from Shtip played very defensive and were able to frustrate Rabotnichki who was not able to create many chances. Rabotnichki did not have the quality on the day to break down the resolute Bregalnica defense, so it resulted in no goals.

Emir Sahiti, the younger brother of Suad, debuted for Rabotnichki on the wing, but he failed to make much of an impact in his first appearance. Rabotnichki continues to be hamstrung by the injury to Goran Siljanovski. The club lacks depth and they continue to field players out of position at right-back.

The first day of FFM TV, the project to stream games in the top two divisions, did not go well. Only two of the six total games on Saturday (includes five Second League fixtures) had functioning streams. Just the Pobeda and Pelister games had streams that were working on this day, so a slow start to the service. Hopefully it will improve in the future.
Rabotnichki - Bregalnica 0:0

Rabotnichki: Bozhinovski, Herrera (76' Ristovski), Ristevski, Cikarski, Petrovikj, Trajchevski, Vujšić, Sahiti (61' Jovanoski), Markoski, Altiparmakovski, Ilijoski.

Bregalnica: Zahov, Nikovski, Mitrev, Stojanov, Hristov, Zdravkov (90' Iliev), Kostov (63' Stanković), Velkovski, Ristovski, Kocev, Nacev.

The rest of Round 10 in the First League will take place on Sunday. Shkupi vs. Vardar is the most compelling game on the schedule for tomorrow.
---